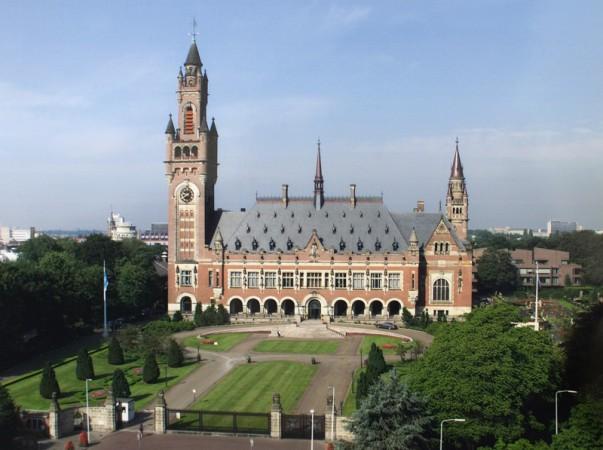 The International Court of Justice on Tuesday stayed the death sentence given to alleged spy Kulbhushan Jadhav by a military court in Pakistan in April this year. The court wrote a letter to Pakistan Prime Minister Nawaz Sharif asking him to stay the death sentence awarded to the former officer of the Indian Navy, who was arrested by Pakistan last year on charges of espionage.
The move comes after India instituted proceedings against Pakistan on Monday, May 8, accusing the neighbouring country of "egregious violations of the Vienna Convention on Consular Relations" in the matter of "the detention and trial of an Indian national, Mr. Kulbhushan Sudhir Jadhav, sentenced to death by a military court in Pakistan," according to a press release tweeted by the International Court of Justice.
#ICJ PRESS RELEASES: #India institutes proceedings against Pakistan and requests provisional measures https://t.co/tYNEF7LY8k pic.twitter.com/sKWX5EmI9N

— CIJ_ICJ (@CIJ_ICJ) May 9, 2017
"The applicant (India) contends that it was not informed of Mr. Jadhav's detention until long after his arrest and that Pakistan failed to inform the accused of his rights. It further alleges that, in violation of the Vienna Convention, the authorities of Pakistan are denying India its right of consular access to Mr. Jadhav, despite its repeated requests. The Applicant also points out that it learned about the death sentence against Mr. Jadhav from a press release," the press release stated.
Avanti Jadhav, the mother of Kulbhushan, had filed an appeal at a higher court in Pakistan earlier, urging it to stay her son's death sentence. The Indian government had also demanded consular access to Kulbhushan 16 times but all requests were denied by the Pakistani government. India had also demanded a certified copy of the chargesheet and judgement so that an appeal against the sentence could be filed.
A military court in Pakistan sentenced Jadhav to death in April after the Field General Court Martial found him guilty of "espionage and sabotage activities" in Pakistan. The neighbouring country has claimed that Jadhav was arrested from the Balochistan province by security forces on March 3, 2016, after he entered the territory from Iran.
Pakistan also claimed that Jadhav was "a serving officer in the Indian Navy" and the Pakistan Army released a "confessional video" of him after he was arrested. However, India denied Jadhav has any connection with the government, but acknowledged that he had served in the Indian Navy.
External Affairs Minister Sushma Swaraj then warned Pakistan that execution of Jadhav would amount to "pre-meditated murder" and that the neighbouring country should "consider its consequences" on bilateral relations. Several bilateral talks, including maritime security dialogue, were cancelled or postponed by India in response to Jadhav's death sentence.