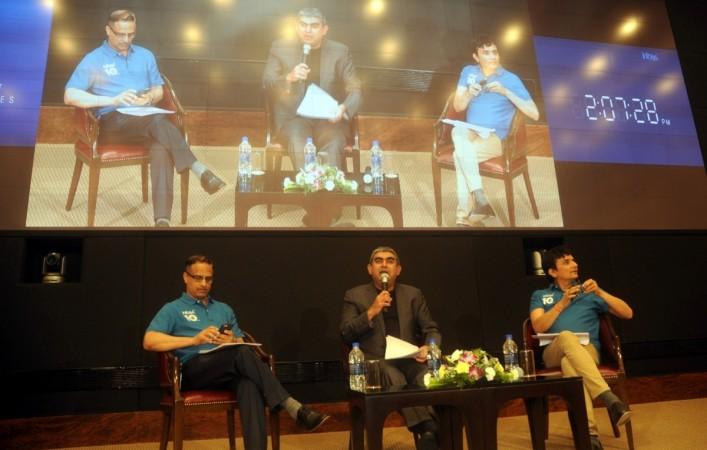 Infosys plans to overcome the H-1B visa challenge posed by the Donald Trump administration by stepping up local hiring in the US even as it shrugged off premature concerns over the new rules.
"We have focussed on increasing our presence in US with lot more local hiring. In this year (2017-18), we will continue that focus. We will accelerate it," UB Pravin Rao, chief operating officer (COO), Infosys, said during an earnings conference call last week, after the announcement of Q4 and FY2017 results.
"So far while there is a lot of noise (implementation of stricter norms for H1-B visas) around it, we are closely monitoring the situation. We are planning for any eventuality, but at this stage, we have not seen any undue things which are impacting the way we do our business," he added.
Infosys had over 2 lakh employees as of March 31; the nationality-wise break-up was not available. The company's 2016-17 revenues rose 8.3 percent in constant currency terms to $10,208 million. The revenue guidance for 2017-18 in constant currency terms is in the range of 6.5-8.5 percent.
Indian IT software companies derive about 60 percent of their revenues from North America and account for the largest portion of 65,000 H1-B visas issued every year. In 2014, about 21,750 of the 65,000 H1-B visas went to Indian IT companies that included Infosys, Wipro, TCS and Tech Mahindra.
H-1 B visas are granted for up to three years and can be extended for a maximum of three years. "Once the six year cap is reached, the foreign national must be physically outside the US for one full uninterrupted year in order to reset the six year clock," according to an update on US visas.
A legislation proposed by US lawmakers in January called for doubling the minimum salary of H-1B visa holders to $130,000 that is bound raise costs for employers.
Last month, the Trump administration temporarily suspended premium processing of H-1 B visas for the fiscal year 2018 beginning October 1, 2017, effective from April 3.
On Monday, Infosys shares were trading 0.66 percent lower at Rs 925 at around 12.10 pm. The BSE Sensex was down 36 points to 29,425.
Among other major IT companies, TCS and Wipro will be declaring their results on April 18 and 25, respectively.
Infosys's net employee addition in 2016-17 was 6,320, down 64.6 percent from 17,857 in 2015-16 and 15,782 in 2014-15. The four-year low was 3,717, in 2013-14.
At a gross level, Infosys added 44,325 employees in comparison to 52,545 in 2015-16, including a fall in lateral recruitment to 18,979 employees in 2016-17, from 24,719 in the preceding fiscal.