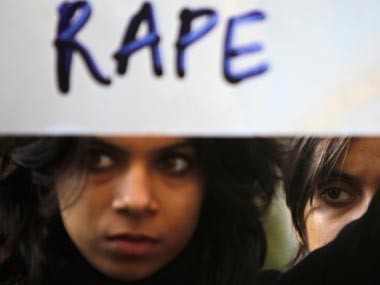 A 40-year-old woman from Hyderabad, India, was raped, beaten, burned, given out-of date food, and was passed between three middle-class families as a slave for years in Britain.
The woman, who is said to be illiterate, was kept as a prisoner in Britain for years and was forced to work 17 hours a day, according to The Independent.
In 2005, the woman came to Britain to earn some money and send it to her family back in India, but soon she was beaten up and tortured by her employers.
She pleaded with the Hertfordshire police, charities and other state agencies for help, but nothing happened. The woman could only speak Hindi, so when police tried talking to her, one of her powerful abusers was used as an interpreter.
When she was returned to the master, he threatened her with a knife saying that she would be buried in the back garden for ruining his family name.
The woman's traumatic ordeal came to light because the three people - a wealthy optician, a butcher and a secretary - were convicted for torturing her.
The Obhrais family, a wealthy optician, kept the woman as a slave for six months in their luxurious £2 million house, located on a highly-desirable private estate.
Before going to Obhrai's, the woman had already been attacked and exploited by two other families where she worked for £2 (around ₹164) an hour and was also raped by the butcher, Enkarta Balapovi, several times.
At Obhrai's place, she was forced to work 17 hours a day for all seven days and was made to cook and clean for eight family members.
The families virtually gave her no money and also took away her passport, the paper reported.
According to court documents, her pleas were ignored by the police, charities and other organisations on at least 12 occasions. Her ordeal ended only when she received helped by a migrant workers' charity and human rights' group - Liberty.
"Various state agencies failed her, ignoring her repeated pleas for help, not adhering to their own investigative practice and it could be said ignoring the obvious," Caroline Haughey, counsel for the prosecution, told the Croydon crown court.
When the woman was working for the Obhrais she was fed food that was past its expiry date and also leftovers of their children. On one occasion, Shashi Obhrai hit her on the head with a rolling pin just because she did not like the chapattis she made.
On another occasion, the starved woman was too dizzy to cook and was beaten up by Shashi. When the victim vomited, Shashi made her clean up the vomit with her own clothes. Shashi also burnt her hands with an iron and threatened to stab her with insulin needles when she asked for her salary.
"They have made my life hell. I have suffered with depression and sleepless nights for a very long time. I have to take medication so that I can sleep," she told The Independent.
"They have treated me so badly that I worry at night that they will come for me. Shashi Obhrai put a hot iron on my arm when I asked her for my earnings to be paid."
For over three years, she was just paid £2,000 ((₹1, 64, 338) which she sent to her family in India. Authorities estimated that she should have earned around £170,000 (₹1, 39, 68,813) during the period.
Obhrai and and another employer Shamina Yousuf were convicted of assault. Balapovi was charged with rape by a jury at Croydon Crown Court. All three will be sentenced next month, according to report.
"They controlled her by taking her passport and taking advantage of her lack of English and subsequent dependency on them for help with her visa. With the victim in their power, they abused her in every possible way," Detective Chief Inspector Nick Sumner told The Independent.
The victim had been left in a wheelchair because of the torture and injuries she suffered at the hands of her employers.
"These people are dangerous they have ruined my life and kept me away from my children. Each should be punished for their wrongdoings," the victim said after the trial.