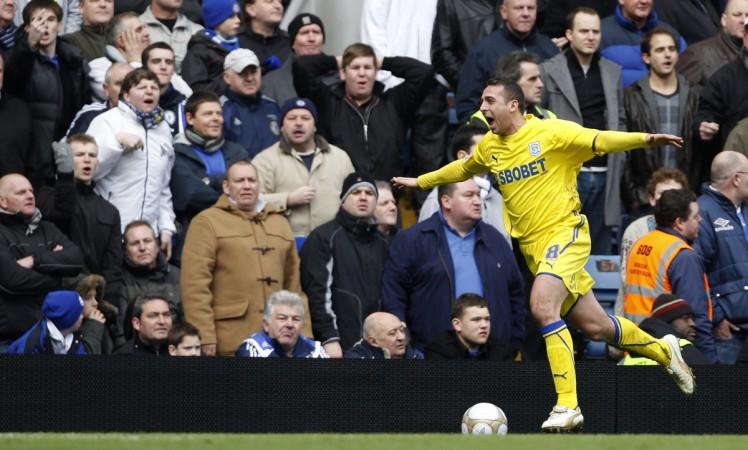 Former Newcastle United striker Michael Chopra has confirmed his participation in the franchise-based Indian Super League (ISL) and will feature in the 'central international player pool', slated to take place in Mumbai on 21 August.
Chopra, an Indian-origin English footballer, will join the likes of former Liverpool striker Luis Garcia and ex-Arsenal winger Robert Pires in the ISL. He is one of the high-profile British footballers of Asian descent and has scored 100 goals in 300 club appearances.
A Newcastle United youth system product, Chopra has also represented England on various age categories and has played for the English clubs like Cardiff City, Sunderland, Ipswich Town and Blackpool.
Chopra, who is a free agent now, after being released by Blackpool at the end of last season, insisted that he is looking forward to play in the ISL and hopefully a good showing will help him getting into the I-League as well.
"It's an amazing feeling and I am very excited and privileged to be part of this fantastic opportunity to develop football in India," Chopra told to Sky Sports News.
"After playing in England for 12, 13 years now I'm ready for a new challenge," he added. "I'm looking forward to the Indian Super League and getting into the I League after that."
Chopra, who scored the fastest goal in the Premier League as a substitute against Sunderland, has also expressed his desire to represent Indian National Football team. The former Newcastle player is ready to surrender his British passport to represent the Blue Tigers.
"In the future, I'd like to open up academies and hopefully one day represent India, which has been a dream of mine for some time," he said. "My desire to play for India is well known and now I must do all I can to prove my ability and show fans that I'm worthy."
"I'd have to give my British passport up to do so but I want to fulfil my career and in years to come I want to tell my son that I was a part of all of this," he added.
Andy Knee of IMG insisted that Chopra's is well known among Indian football fans and he is a great addition to the All India Football Federation (AIFF)-backed league.
"Michael's excellent profile and achievements are well known to Indian football fans, and his interest in football in India, as well as his desire to play for the Indian National Team, is well-documented," Knee said.
"We're thrilled that he's signed to participate in the Hero Indian Super League, and look forward to seeing him in action for the very first time on Indian soil," he added.