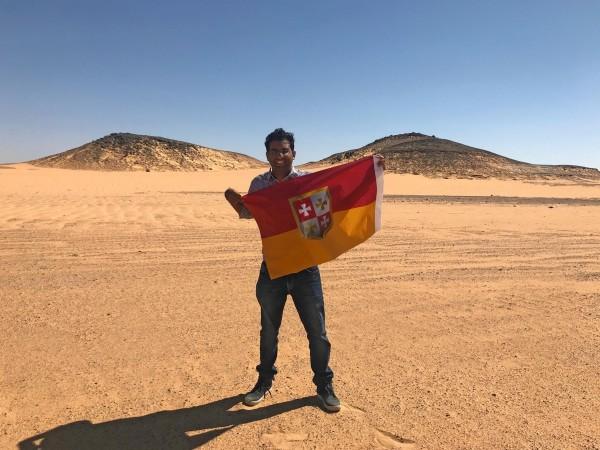 Suyash Dixit from Indore in Madhya Pradesh, India, has declared himself the ruler of an unclaimed 2,000 sq km area of land between Egypt and Sudan and is encouraging people to apply for citizenship.
Dixit, the CEO of a tech firm in Indore, has filed an online petition to the United Nations asking for recognition of his claim and interestingly, more than 800 people have supported the petition. He was travelling to Cairo, Egypt, when he read about the unclaimed land, Bir Tawil, the largest uninhabited territory claimed by neither Egypt nor Sudan.
He "founded" the Kingdom of Dixit (KOD) and in Game of Thrones style declared himself the king.
"I, Suyash Dixit, first of my name and the protector of the realm, declare myself as the king of "Kingdom of Dixit". I call myself, King Suyash First from today. I declare this unclaimed land of Bir Tawil as my country from now to the eternity of time. I pledge to continue to work for the prosperity of my people of the country and this motherland," Dixit wrote on Facebook.
In his Facebook post, he said that Bir Tawil is open for foreign investments and people can apply for nationality. According to the post, the capital city of is Suyashpur and the national animal is the lizard. He has even declared Suyog Dixit as the acting Prime Minister and the Head of Military and his father as the President of KoD.
"We got on 3 conditions, no photos of military areas (which is almost everything), you be back in the single day and you do not carry valuables. We drove for 6 hours straight in the middle of the desert and barren lands and crossing 1 military base to the location. We saw pure sand dunes, rocky hills, and canyons on our way. I left all my valuables back and told my local friend Esraa (she was very angry when I told her this plan initially so I kinda lied to her! Sorry Esraa! ) that if I am not back by midnight.. call the police."
"Now I know I am not the first one to be there. Now I know that some 5-10 folks have done it in the past as well but this is my land now (as I have officially planted the seeds following the rules) and if they want it back, there will be a war (over a cup of coffee at the Starbucks probably)!"
"We found 2 places to put our flag. 1 we call it the capital of KoD and other where we start our borders."
Bir Tawil has no permanent residents and is the only place on Earth that is not a part of any state or country since 1902. It has stayed as a de facto "no man's land" for more than 100 years.
Dixit is not the first person to make such claims. In 2011, Jack Shenker had visited the place and planted a multicoloured flag. In 2014, Jeremiah Heaton, an American citizen, travelled to Bir Tawil to make his daughter the real-life princess.