With Steve Smith and David Warner plundering 131 runs in the first session, it looked like being a long, long day for India, another one where the Australia skipper dominates, with, this time, his vice-captain giving him fine company.
Virat Kohli ruled out of fourth Test
Then, in the second session of day one of this fourth Test match in Dharamsala, it all turned around, thanks to the attack of the Yadavs, with a certain debutant named Kuldeep, showing the variety, control and guile of an experienced campaigner to bamboozle the Australia batsmen.
After the fast bowlers were taken for boundaries at will in the opening session, with Smith looking ominous, the stage was set for Australia to send India on a leather trail. Instead, Kuldeep Yadav, playing his first ever Test match, changed the course of the match completely, with Umesh Yadav chipping in with a crucial wicket as well to turn the momentum around in the second session.
The first to go in session two was Warner (56, 87b, 8x4, 1x6), who was surprised by the bounce from a chinaman delivery, with Ajinkya Rahane taking a fine catch at first slip. Kuldeep was overcome by taking his first ever Test wicket, with maybe tear or two coming down as well. He did not let the emotions get the better of him, though. His best was yet to come.
After Umesh Yadav had Shaun Marsh (4, 14b) strangle one down the legside, Peter Handscomb (8, 23b, 1x4)was done by a classic delivery from Kuldeep – flight, dip and turn to beat the bat and go through the gate to smash into the stumps.
He then set Glenn Maxwell (8, 17b, 1x4) up quite wonderfully, bowling a couple of balls that came in, before slipping in the wrong'un. Maxwell, expecting the ball to turn back to him again, played down the wrong line and that off-stump was hit with precision.
While all that was happening at one end, at the other, Smith just kept scoring and scoring and scoring, with a boundary fine down the legside, getting him his 20th Test match hundred and third of this series, another masterful knock from the best Test batsman in the world at the moment.
However, the century would not turn into a big one, with R Ashwin finding the outside edge of Smith (111, 173b, 14x4) in the penultimate over before Tea.
Matthew Wade (57, 125b, 4x4, 1x6) would take over the senior batsman's duties in the final session, playing Kuldeep really well – he and Smith were the only two batsmen who seemed to read the chinaman bowler – and ensuring the innings would not fold up under 250.
Indeed, Wade's half-century meant Australia got to the 300 mark – he would fall with the score on 298 – with Pat Cummins (21, 40b, 3x4, 1x), Steve O'Keefe (8, 16b, 2x4) and Nathan Lyon (13, 28b, 2x4) doing well to stay with Wade.
What that also showed was how flat the wicket is, and if India show good application on day two, they could take this game away from Australia.
Earlier, a full and wide delivery to Warner went flying to third slip off a thick outside edge; Karun Nair, caught unawares and reacting too late, put the chance down, and that first ball of the fourth Test match was a sign of things to come for India, already reeling from the loss of their captain Virat Kohli, in the first session.
After winning the toss for the third time in four Test matches in this series, Smith had no hesitation in batting on a Dharamsala wicket that had a fair sprinkling of grass, but quite a few bare patches as well, suggesting it could break down in the last couple of days.
Warner, with that life gifted to him by Karun, then set about bashing the India fast bowlers with Smith, with the two batsmen scoring at a one-day rate to put Australia in a real position of strength at Lunch.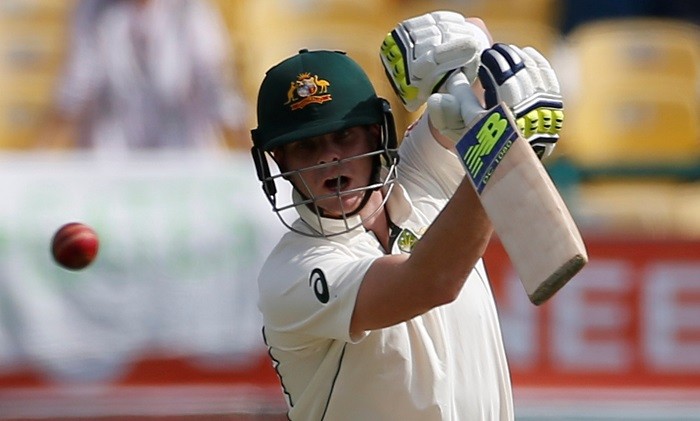 The only wicket that fell in the first session, did fall early, when Umesh got one to go through the bat and pad of Matt Renshaw (1, 6b), but from there it was easy peasy for Smith and Warner, with the former, in particular, making batting on a day one morning pitch look like a Sunday morning stroll.
Smith has got the bulk of his runs so far in this series by being circumspect, showing patience and grafting quite a bit, but this innings, so far, has been all about aggression.
After getting a measure of the pitch in the first 15 balls or so, Smith went into limited-overs mode, smashing the balls through the offside in his own unique style.
India clearly have no clue about how to get Smith, who averages over 80 against this opposition, out. They tried everything – they floated the ball outside off, that was driven for boundaries. They kept it back of a length, which was pushed for plenty of fours. They even came around the wicket, trying to create an angle across the batsman, but, again, Smith was more than up to the task.
Warner, at the other end, wasn't quite as fluent, but with that early life given, he made sure he hung in there with his skipper, before slowly but surely finding his touch as he notched his first half-century in this series.
Ajinkya Rahane, the captain for this Test with Kohli unable to recover from a shoulder injury in time, wasn't proactive enough in that first session, even if he would improve considerably in the next two.
Rahane kept bowling the fast bowlers – Bhuvneshwar had a spell of eight overs – expecting a different result, when the only thing that was ever going to happen was runs coming freely, and he also brought on Kuldeep, the one bowler the Australians know little about, all too late in the first session, with the left-arm chinaman getting just two overs. Rahane would make up for that mistake, however, by giving Kuldeep a long spell in the second.
Ashwin came in, and so did Ravindra Jadeja, after a little while, and kept tight for a while, but with the start that Australia had made by then and Smith batting like a dream, they could do very little either.
However, everything changed once Kuldeep got his groove on.
Scores:
First innings: Australia: 300 all out in 88.3 overs.
India: 0/0 in 1 over.
Bowling: First innings: India: Bhuvneshwar Kumar 12.3-2-41-1; Umesh Yadav 15-1-69-2; R Ashwin 23-5-54-1; Ravindra Jadeja 15-1-57-1; Kuldeep Yadav 23-3-68-4.
Australia: Josh Hazlewood 1-1-0-0.
Fall of wickets: First innings: Australia: 10/1, Matt Renshaw (1.4 overs); 144/2, David Warner (34.1 overs); 153/3, Shaun Marsh (37.4 overs); 168/4, Peter Handscomb (44.5 overs); 178/5, Glenn Maxwell (49 overs); 208/6, Steve Smith (59.5 overs); 245/7, Pat Cummins (72.4 overs); 269/8, Steve O'Keefe (79.3 overs); 298/9, Matthew Wade (87.4 overs); 300/10, Nathan Lyon (88.3 overs).