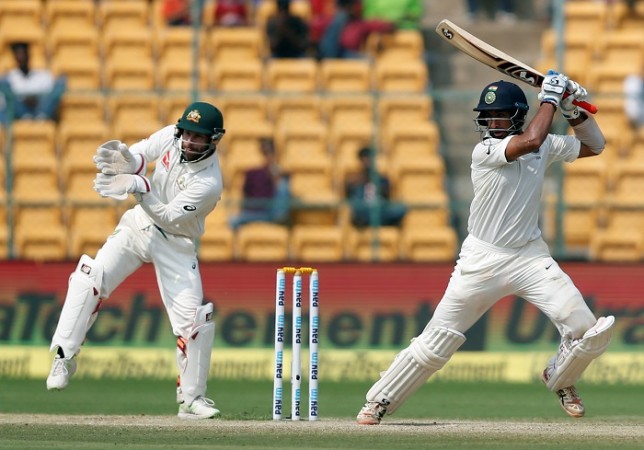 It took a little longer than India would have liked and there were a few more runs scored than the home team would have been comfortable with, but their chance to redeem themselves with the bat came after Australia were bowled out on day three morning of the second Test in Bengaluru. That shot at redemption looked like being thrown away when India lost four wickets in the second session, leaving them in a precarious position, only for Cheteshwar Pujara and Ajinkya Rahane to show the fight that has been missing all series to give India hope in this Test match.
India vs Australia 2nd Test, Day 2 highlights
With the lead at 48 runs and four wickets in hand at the start of the day, Australia were already in a strong position to dictate terms in this Test match and they put themselves in an even better situation by bulging that first innings lead to 87, after being bowled out for 276.
India's start to, first, wipe off that lead, before thinking about putting up a big score, was solid, with Abhinav Mukund (16, 32b, 1x4, 1x6) avoiding a pair and staying alongside KL Rahul to take India to Lunch on 36 for no loss, before losing his wicket right after the break as Josh Hazlewood found a way through to hit the stumps.
Rahul and Pujara then struck up a crucial partnership, putting on 45 runs together to take India to within three runs of wiping out the lead. While Pujara was lucky in the early stages, with three edges off Nathan Lyon, who went the entire day wicketless, after taking eight in the first innings, either falling just away from the fielder or being dropped, Rahul was quite impressive, scoring runs at will, while taking the bulk of the strike to take the pressure off his partner.
The game was set up for Rahul (51, 85b, 4x4) to make a big score and pull India towards a total they might be able to defend, but the right-hander gave it away going for a big drive off Steve O'Keefe, with Smith, who had earlier dropped Pujara, making up for that miss by taking a quite magnificent catch at first slip, diving full-length to his right.
It was all on Pujara and Virat Kohli now to put on a big partnership, but that luck, like it has in this entire series, just would not come to India's corner. With Kohli looking good, Hazlewood got one of the balls to keep really low and come in on the angle. Nigel Llong gave it out lbw before even a proper appeal was made, with Kohli, thinking he had hit it first, immediately asking for the review.
After numerous replays and every possible angle, it was impossible to tell if it was bat or pad first, and as a result the umpire stayed with the on-field decision and Kohli (15, 25b, 1x4), with disbelief written on his face, had to go.
If that Kohli wicket would be a telling blow or not is really going to be up to the rest of the India batsmen, with the home team throwing in a surprise by sending Jadeja in ahead of Rahane, Karun Nair, Wriddhiman Saha and R Ashwin.
That was a tactic to try and negate Lyon's potency against the right-handers and with it to try and quell another potential collapse, but it proved to be a pretty fruitless one with Hazlewood, after troubling the Jadeja (2, 12b) for a couple of overs, getting one to tail-in late to smash the stumps.
However, India fought back, and how, with Pujara and Rahane, the man who has been under pressure, with his position in the team brought into question owing to his struggles on turning pitches, putting on an unbeaten 93-run partnership – the highest in this series so far for either side.
Both batsmen were quite composed and while there were a couple of hairy moments, overall, they showed the patience and temperament that have been seriously lacking so far to dig India out of trouble.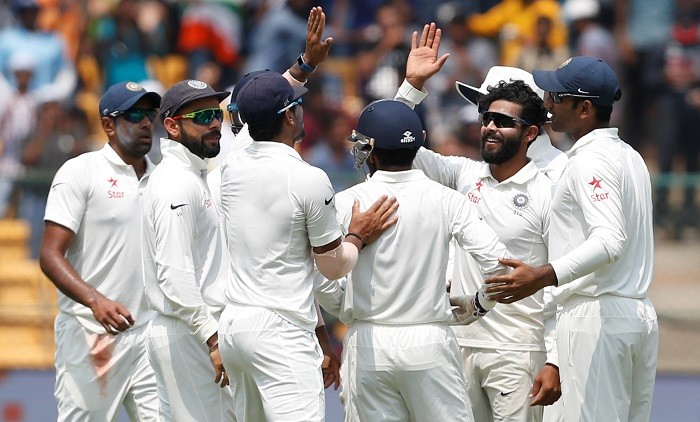 In the morning, India took a while to get the first wicket of the day, with Matthew Wade and Mitchell Starc frustrating the bowlers while also inching the lead closer and closer to the 100-run mark.
Starc (26, 52b, 2x4) was the man to finally give India the opening, 12 overs into the day, with the left-hander unable to clear the boundary while going for a slog-sweep off R Ashwin – Ravindra Jadeja taking a nice catch at deep midwicket.
Jadeja would have a hand in all four of wickets that fell, with the left-armer, again brought into the game a little later than he really should have by Virat Kohli – Jadeja bowled the least amount of overs of the four main bowlers – getting both Wade (40, 113b, 4x4) and Nathan Lyon (0, 1b) out lbw in quick succession.
Both of them were reviewed by the Australians and both of them were wasted with there being absolutely no doubt about the ball hitting the wickets on both occasions.
Jadeja, having completed his five-for with the Lyon wicket, would make it six for the innings when Josh Hazlewood (1, 9b) holed out to Rahul at long-on.
Score:
First innings: India: 189 all out in 71.2 overs.
Australia: 276 all out in 122.4 overs.
Overnight score: 237/6 in 106 overs.
First innings lead: Australia, 87 runs.
Second innings: India: 213/4 in 72 overs, lead by 126 runs.
Batting in the middle: Cheteshwar Pujara (79, 173b, 6x4) and Ajinkya Rahane (40, 105b, 3x4).
Bowling: First innings: India: Ishant Sharma 27-8-48-1; Umesh Yadav 24-7-57-1; R Ashwin 49-13-84-2; Ravindra Jadeja 21.4-1-63-6; Karun Nair 1-0-7-0.
Second innings: Australia: Mitchell Starc 10-0-45-0; Josh Hazlewood 16-0-57-3; Nathan Lyon 27-2-69-0; Steve O'Keefe 16-3-28-1; Mitchell Marsh 3-0-4-0.
Fall of wickets: First innings: Australia: 52/1, David Warner (21.1 overs); 82/2, Steven Smith (41.2 overs); 134/3, Matt Renshaw (66.3 overs); 160/4, Peter Handscomb (76.4 overs); 163/5, Mitchell Marsh (80 overs); 220/6, Shaun Marsh (100.2 overs); 269/7, Mitchell Starc (118 overs); 274/8, Matthew Wade (120.1 overs); 274/9, Nathan Lyon (120.2 overs); 276/10, Josh Hazlewood (122.4 overs).
Second innings: India: 39/1, Abhinav Mukund (10.4 overs); 84/2, KL Rahul (24.2 overs); 112/3, Virat Kohli (34.2 overs); 120/4, Ravindra Jadeja (38.1 overs).