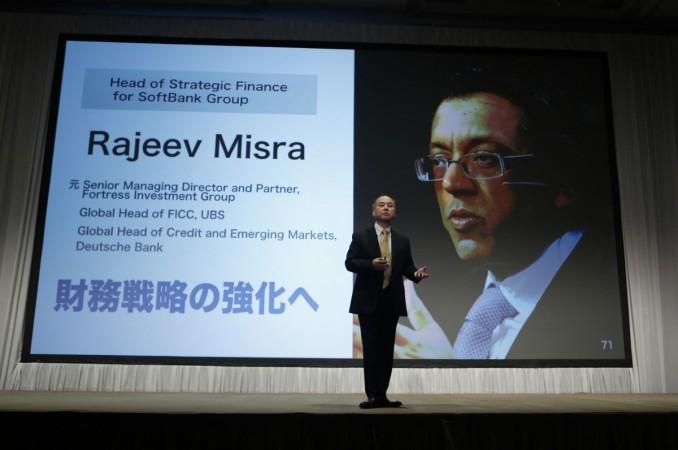 Two days after closing its billion-dollar funding initiative, Japanese conglomerate SoftBank announced that Rajeev Misra, currently CEO of SoftBank Investment Advisers, will be joining its board of directors along with four others.
The 54-year-old, India-born executive and four others will be formally elected on June 21, SoftBank said in a statement on Wednesday (May 24).
An alumni of University of Pennsylvania and MIT Sloan School of Management, Misra joined SoftBank in November 2014 and in October 2016, he was giving the mandate to lead the SoftBank Vision Fund.
Misra heads SoftBank Investment Advisers that advises the SoftBank Vision Fund that completed fund-raising from Saudi Arabia, Mubadala Investment Company of the United Arab Emirates, Apple Inc., Foxconn Technology Group, Qualcomm Inc. and Sharp Corporation ("Sharp") or their respective affiliates, according to an update released on Monday (May 22).
He had earlier worked for Merrill Lynch for seven years working in derivative marketing and trading, followed by a short stint at Deutsche Bank AG as the Head of Credit Derivatives and Chief of Global Credit Trading. He also worked at UBS as the Global Head of Credit and Head of Fixed Income, Currencies and Commodities in Europe, Middle East and Africa Global Head of Credit and Head of Fixed Income, Currencies and Commodities in Europe, Middle East and Africa for five years, according to a profile update by news agency Bloomberg.
Misra also served as an independent director at Eros International Plc. from December 1, 2014 to November 17, 2016.
The $100-billion SoftBank Vision Fund has a mandate of investing in technology companies globally and has raised $93 billion till date.
"The Fund will target meaningful, long-term investments in companies and foundational platform businesses that seek to enable the next age of innovation. The Fund will seek to acquire minority and majority interests in both private and public companies, from emerging technology businesses to established, multi-billion dollar companies requiring substantial growth funding," according to SoftBank.
Marcelo Claure, Sprint Corporation; Simon Segars, CEO, ARM Holdings Plc; Mark Schwartz, Senior Director, Goldman, Sachs & Co. and Yasir O. Al-Rumayyan, Managing Director and Board Member, the Public Investment Fund (PIF) of the Kingdom of Saudi Arabia, are the other four executives who will be joining the SoftBank board.
SoftBank's investments in India include $1.4 billion in mobile wallet Paytm owned by fintech company One97 Communications. Paytm became Paytm Payments Bank with effect from May 23. Besides, SoftBank has also invested in cab-hailing company Ola and e-commerce firm Snapdeal.
Snapdeal is rumoured to be acquired by bigger rival Flipkart.