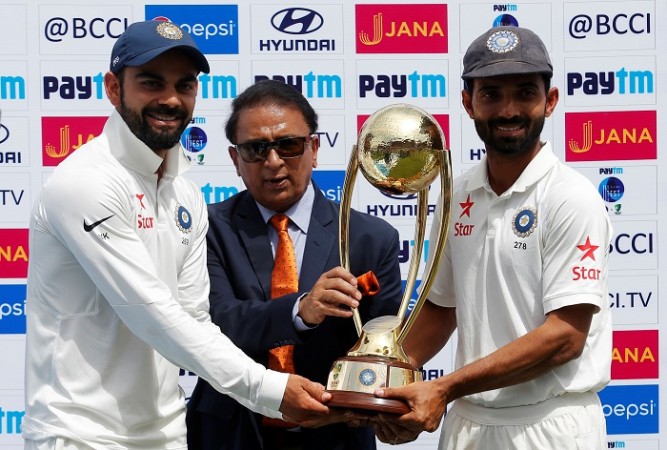 Test cricket might be the least popular format in cricket, but the recently concluded India-Australia series was one of the most entertaining, making us beg for more such contests. The highly-competitive series' fate was only decided on the fourth and final Test in Dharamsala, which India won to reclaim the Border-Gavaskar Trophy 2-1.
India were the favourites to win the series right from the start, but the way Australia started with an emphatic win in the first Test, the home team were aware that the Aussies were going to be their biggest test this home season. As things went on, India came up with improved performances, which helped them win the second Test, and also came close to clinching the series in Ranchi.
India eventually won the series in the fourth Test, and the victory looks even more special for various reasons. India had to do without Virat Kohli, who suffered a shoulder injury in the third Test. With the pitch assisting the seamers more, Australia might have even sniffed the trophy, but a brilliant combined effort from all the India players to win the match and the series. Former Australian players, who followed the series closely, also praised the Indian team for their outstanding effort.
The series is going to be remembered for the competitive nature of cricket between India and Australia. The spinners had their way in the first and second Test, batsmen loved it in the third Test, and the final match of the series witnessed some brilliant chin music too. What else do you want in a series? Oh yes, both the teams were involved in some heated exchanges, verbal abuses, drama and controversies, which made this series even more memorable.
This win in Dharamsala capped off an incredible season for India this home season, where they have been unstoppable. India defeated all the teams that toured the country, including New Zealand, England and Bangladesh with utter ease.
All the players including KL Rahul, Cheteshwar Pujara, Virat Kohli, Ravindra Jadeja, R Ashwin, Umesh Yadav, and others have contributed with their skills to help India become one of the most feared teams in world cricket.
Congratulations Bharat on a wonderful season. Only Chuna in Puna. Great effort @anilkumble1074 in ensuring no complacency.

— Virender Sehwag (@virendersehwag) March 28, 2017
Congrats on the series win India. Well played ?? Well fought throughout series Aus. A great series to watch ?? #INDvAUS #fire #passion

— Mitchell Johnson (@MitchJohnson398) March 28, 2017
India win by 8 wickets and win series 2-1?
Well done to players of both sides for a top notch entertaining series ?#IndvAus

— Damien Fleming (@bowlologist) March 28, 2017
Great test series to watch India v Australia.. Some incredible cricket from both sides. Well done India on the series win 2-1.. #cricket

— Damien Martyn (@damienmartyn) March 28, 2017
Congrats to India on a wonderful series win, it was a great series to watch. Well done to the Inexpierienced Aussies too who fought hard ! ✔

— Shane Warne (@ShaneWarne) March 28, 2017
Congratulations India. It's been a wonderful series. Aussies have played some very good cricket also. ?? just to good in this final Test. ?

— Michael Clarke (@MClarke23) March 28, 2017