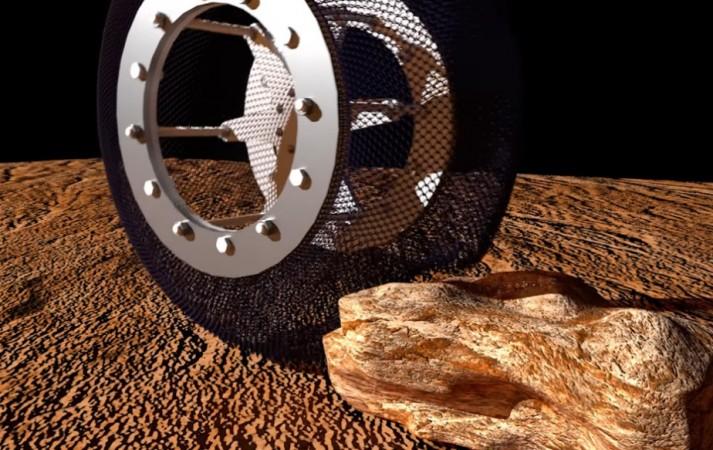 This week was a very eventful one, as we witnessed the announcement of NASA making advancement in the puncture-proof wheel, Artificial Intelligence software learning to sing a lullaby for kids, Samsung making huge strides in smartphone battery life, and lot more important things happened.
To give a clear perspective, International Business Times India (technology team) is presenting you the curated list of notable news in the world of technology that happened through the week (November 27-December 3, 2017).
NASA puncture-proof wheel: US National Aeronautics and Space Administration (NASA) is literally reinventing the wheel, and it saw remarkable progress in developing the tire that will never get puncture whatsoever.
Taking note of the 'Spring Tire' shortcomings in Curiosity Rover on Mars, NASA has improved the durability aspect.
"New 'Spring Tire' (made of memory alloy) has three benefits: It can cover more distance, carry heavier load as it can conform to the terrain without sinking, and can be used on crewed exploration vehicles which are expected to move at high speeds as the tires can absorb energy from impacts at moderate to high speeds," NASA said in a statement:
Mind control chips: US military, which already boasts of having state-of-the-art weapon technologies, is embarking on a more ambitious project that will one day be able to control human behaviour.
Pentagon's Defense Advanced Research Projects Agency (DARPA) is funding researchers from the University of California and Massachusetts General Hospital (MGH) in Boston to test "closed-loop" brain implants that use artificial intelligence algorithms to detect various mood disorders and deliver electric shocks to jolt a person's brain back to a healthy state automatically.
The neural implants will generate electrical pulses to control human feelings and behaviour and are capable to stimulate the brain to treat mental disorders, including dementia and Alzheimer's, Parkinson's disease and chronic depression.
The AI-based brain chips have already been tested on six volunteers who have epilepsy and have electrodes implanted in their brains to help researchers track what is happening inside their brains throughout the day.
Tesla concept mobile: Last week, we saw Elon Musk's Tesla launching first-ever mobile accessory, a power bank, for Android and Apple iPhones & iPads, leading to rumours that the world's most popular electric automobile company may soon foray into smartphone business.
Now, it looks like Tesla-branded mobile debut might happen sooner than later. A video featuring a Tesla concept phone has surfaced on YouTube and it is spectacular.
The design language of the phone is inspired from Tesla's visually appealing Model X (& S) and Roadster car series. It features sleek body having metal frame and curved edges on both sides of the display, a dual rear camera module on the back and a bezel-less display with an aspect ratio of 18:9.
Samsung's true bezel-less smartphone display: 2017 witnessed the launch of Samsung Galaxy S8 in first half and the Note8 in the second half. Both the phones had the 'Infinity Display', which set new benchmark in mobile design language and received big thumps up from critics and consumers alike, as they made record sales across the world.
Now, a Samsung patent document has surfaced online showing that the company is going to take the mobile design language to a whole new level. It has reportedly achieved the impossible by making the front-panel truly bezel-less.
The Galaxy S8 and the Note8 had dual-edge curved screen on the edge, while the top and the bottom had bezel to accommodate front camera and other sensors.
However, the future Samsung phones' front panel will be completely enveloped by fully active display up to the mid-point of the frame on all sides — top, bottom, right and left.
AI lullaby: A healthcare firm has used artificial intelligence to create a lullaby that may aid insomniacs to get proper sleep at night.
The company's AI-assisted music dubbed as "Lullaby " was developed through deep learning which is based on several layers of neural networks inspired by the brain. If you show one of these networks lots of complex data, it can easily discover hidden patterns in the human brain. Adding all data to the AI-based algorithm, the tune, was produced using a machine by London-based Jukedeck and is claimed to be able to help cure insomnia.
Samsung new Graphene-based battery under works: Though smartphones have become faster and efficient in terms of performance, the battery life hasn't been improved for long. Well, it is all going change, at least for future Samsung-branded phones.
Leading mobile maker Samsung has announced to have made great stride in battery technology, thanks to the new grapheme material when used in the Li-Ion cell, it will be able to charge faster than current fastest charging time and also lasts 45 percent longer.
Xiaomi Desh Ka Smartphone aka Redmi 5A:
After releasing several 'Desh Ka Smartphone' teaser for days, Xiaomi finally unveiled Redmi 5A with feature-rich hardware with price starting at just Rs. 4,999 (for limited time). It boasts long lasting battery, which can run the device for 8 days under standby mode.
Honor phone with advanced facial recognition system, 10X time better than Apple ID: Huawei's subsidiary Honor during the V10 series phone launch demonstrated a concept mobile having feature-rich front-camera with the new technology that is said to be way better and has less number of sensors than Apple iPhone X.
The former does not use any fancy expensive laser, but instead uses an efficient VCSEL (Vertical-Cavity Surface-Emitting Laser) projector. The V10 uses "fringe projection" to map the 3-dimension map of users face, and it can capture 300,000 facial dots in 10 seconds which is 10 times higher than the iPhone X.
Elon Musk's Tesla launches world's largest battery-powered electric supply service in record time: Tesla Inc. created history by turning on the world's largest lithium-ion battery in Jamestown, South Australia on December 1.
Prior to the launch, Elon Musk had promised that Tesla would build the 100-megawatt hour battery in just 100 days, failing which he would provide it for free.
Tesla beat the deadline by building the mega-battery in just 60 days. The mega-battery power station has been switched on, just in time for the beginning of Australia's summer.
Green secret agents: US Defense Advanced Research Project Agency (DARPA) has directed country's researchers to develop genetically modified plants that will be able to detect and collect relevant data about potential threats.
As part of its Advanced Plant Technologies (APT) programme, the agency plans to pursue technologies to develop special plant-based sensors that are self-sustaining in their environment, and can be remotely monitored using existing hardware.
Stay tuned. Follow us @IBTimesIN_Tech on Twitter for latest updates technology.