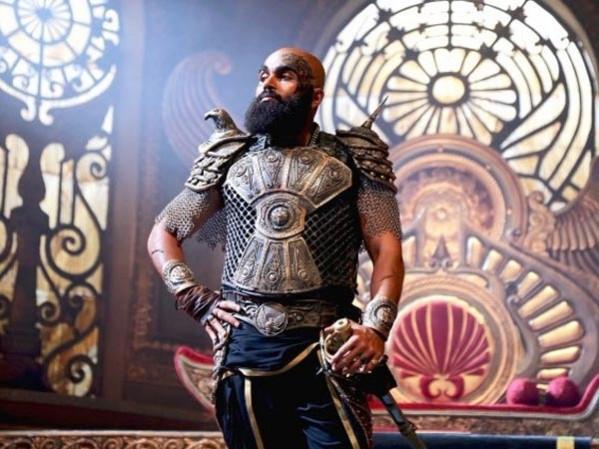 He is looking forward to his big Diwali release, Kaashmora, on October 28. Karthi is known to play different roles but he plays three characters in this film. In an exclusive interview with IBTimes India, he talks about the film, Nayanthara and what makes Kaashmora different from Baahubali.
IBT: How different is Kaashmora from all your previous films?
Every film doesn't have to be really different from what I've done, but thankfully this film is different. It's got 30 minutes of a period portion, which I've never done before. This film has elements of horror that I've not done before. Kaashmora is a guy who does black magic and I've not played such a role before. This is all new to me. And this is a film without romance. So it doesn't fall into the usual pattern of what you'd expect when there are two heroines in the film.
IBT: Considering there are so new elements, how much effort did you put into Kaashmora?
The film's period portion takes place 500 years back. So I had to prepare myself for the role of Raj Nayak by taking up horse-riding. I tried to avoid Sivaji sir in every dialogue (smiles) because no matter what you do or however you try, you get his modulation. You've grown up watching his films and he has cemented that role. Trying to not get into his zone was very tough, but we tried.
It was very challenging. Trying to get the look of an angry warlord was also difficult. He's a man who is self-obsessed, so it had to come through in his costumes, his look, his behaviour. I didn't want to look like myself for this part because even another actor could have played the part. To be completely different in terms of looks and behaviour was very challenging.
IBT: Gokul, the director of the film, is a relative newcomer. How did you place so much faith in him?
To begin with, I loved his film Idharkuthaney Aasaipattai Balakumara. I felt he was a director who could extract performances from everyone in the film. The movie was shot, edited and presented well. So you know he's a craftsman who knows his craft. The way he narrated and enacted the story, I knew that he knows what he wants on screen. But when it came to the period portion, no one knew how he will execute it. But what he did was preparing for it well in advance -- he got the sketches and pre-visuals made much in advance. Then you knew this man, who's new to it, is trying to do the best and gaining knowledge to do the best as well. He was not compromising, but pushing himself to do the best. He went into every small detail in the film. Though it's an entertainer, the way it is presented will determine whether it's a big film or a small film. He was very clear that he didn't want to compromise on the scale of the film -- there were 11 or 12 sets we erected. He was pushing everyone to give their best. Nobody had shot a war sequence before -- it's new to all of us. They did so much of research before starting the shoot. That was very impressive.
IBT: With Baahubali being a period film as well, your film or part of it will be compared with it.
The biggest block we had was that the moment we started shooting, Baahubali released. We knew then people would also compare Kaashmora to Kattappa, though the characters are not similar. The kind of benchmark that Baahubali set was really challenging for us. With our budget, it's unfair to compare this film with Baahubali, but people will, I guess. We had stopped shooting for three months and reworked the designs of a lot of things to live up to it. It was a really painful process, but we had to do it -- there was no other choice. We reworked and regained more knowledge and then resumed the shoot.
IBT: The Tamil audience loves to see the hero romance the heroine. But Kaashmora has no romance?
I am also a Tamilian (laughs). The story didn't require it. If the film is engaging enough and doesn't require this, then it means the script has got something else to engage the audience. This film has that factor. Only after Gokul narrated the script, he told me there was no romance and I realised it myself.
IBT: This is the first time you are working with Nayanthara and Sri Divya.
Nayanthara plays a character who comes for 30 minutes in the film. We needed someone who had a strong screen presence as we can't take too much time in establishing the character.
She's never played a princess before and she plays one in this film. So it will be fresh on-screen. Sri Divya was excited about the film because it's got these spooky elements and period part. She plays a girl who does research on ghosts. She's pulled off humour in this film. Sri Divya has only played a village girl in her earlier films, but Gokul gave her a makeover and she comes as a stylish city girl.
Everyone was excited as they wanted to try something different. It's an entertainer but with some different aspects.
IBT: Having completed the film, how do you feel now?
When we started off the film, it was very ambitiously, not even knowing how it would shape up. It's all imagination, so it could go in any direction. We didn't know how realistic it would look as it depends on the final output. But when I see it today, the way it's come out, the way Santhosh Narayanan has done the re-recording for the film, the performances, the sets, the graphics -- it's much beyond what I had imagined.
IBT: Has Suriya seen the film?
No, he hasn't as he's in Georgia right now.
IBT: So you'll be at the theatre: first day, first show.
I always do. I always go to the theatre and watch it with my fans. That's what we are working for. We have to go and see the 'Boss' -- the audience -- once the work is done. (Smiles). It's a big film and a lot is riding on it for the producers. I'll be promoting it as much as I can across South India.
IBT: Any message for the audience before the release?
Please don't compare it with Baahubali. It's a highly entertaining film that you must watch with your family this Diwali. It has horror, humour, good visuals and is a very engaging film. It's a celebration film and apt for Diwali. That much I can guarantee!