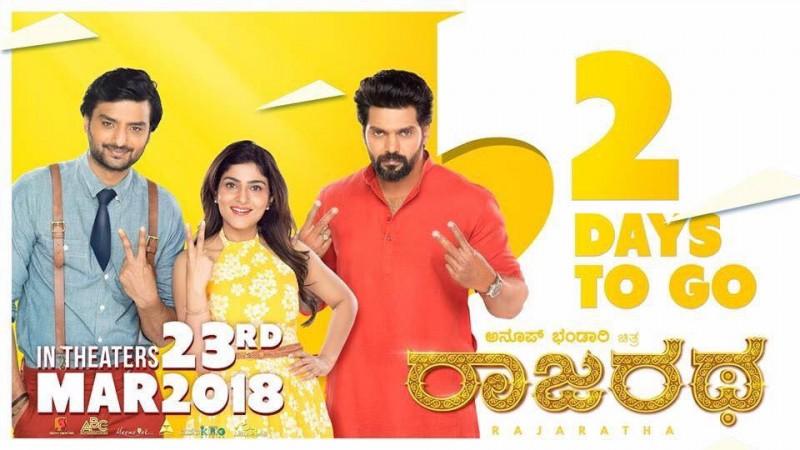 Avantika Shetty had debuted as heroine with Anup Bhandari's movie RangiTaranga. After the film's release, she was praised for her performance.
Three years after her dream debut in RangiTaranga, 'kudlada ponno' (girl from Mangaluru) has reunited with the Bhandari brothers (Anup and Nirup) for Rajaratha, which will release on on March 23. While the first movie was a mystery thriller, Rajaratha is a romantic comedy. Avantika was one of the two female lead actresses in RangiTaranga. In Rajaratha, she is the only heroine.
The chirpy actress took some time off her busy schedule to speak to IBTimes India. She discussed working with Bhandari brothers again and many other things.
Below read the excerpts from the interview:
How was it working with the same team?
It is more comfortable when we do a film with the same team. I need not worry how the team will behave with me or how I should behave with them. I will never say that I am doing an Anup film, but I will say I am doing a film with Anup. I like the approach of every member of the team. Right from the spot boy to an assistant, people take ownership over their work.
Tell us about Anup and Nirup.
Anup is a very good filmmaker and I really like the way he narrates the stories. He knows what he wants from his actors and he is open to feedback. I understand the style of Anup's working. The good thing about Anup is he won't rewrite scripts on location. He has everything in advance. So, we have time for preparations.
Coming to Nirup, he is a wonderful co-star to work with. We work around the scene and give each other feedback. In short, I have a very different equation with these people.
What's your role in Rajaratha?
My role is of a girl who is very normal. Everyone wants a girl like her in their lives. She mesmerizes people easily and her simple walk can win her admirers.
How different is this film from your earlier ones?
For all my roles, I try to bring something of me to the character. It helps me to connect with the role better. Basically, I am not a shy or timid person. In my college, guys used to be scared of me and never had the guts to talk to me. In reality, I am different from what Megha is in Rajaratha. It is certainly different from the characters that I have played so far.
Any special preparation for the role?
Apart from working on the walking style, I did not have to undergo any special preparation. We worked on the look of my character and discussed a lot about the kind of makeup. Anup used to give me the backstory if required for the role. So, preparing for this movie was not difficult at all.
How was the experience working with Arya?
I learned from Arya that one can be a star and still be down to earth. He came in as a newcomer to the sets and gelled with us like he knew us from the beginning.
Any memorable incident on the sets?
I had a near-death incident on the sets. I fell off a tree while shooting for a scene. I would have broken my head, my back and died. Luckily, I escaped with serious injuries.
There was a scene where I and Nirup were sitting on the branch of a tree. He jumped off the tree and he accidentally hit his hand on my feet, sending me into a somersault. Luckily, my karate skills helped me to land in a particular position. For me, it is the most memorable incident.
What is the film all about?
It is a complete entertainer. This film has everything that an entertaining film should have. It also has good visuals and music.
RangiTaranga was a serious movie with little scope for comedy. But Rajaratha is a romantic comedy. Was it difficult working for a comedy genre?
I agree evoking laughter is not a joke. In Rajaratha, we don't have comedy characters or particular sequence which tickles your funny bones. It is purely a situational comedy. People with good sense of humor will thoroughly enjoy the film and witty one-liners will leave the clever audience in splits.
What next?
Rajaratha needed my complete commitment as the movie is bilingual. Apart from the commercials that I do in Mumbai, I have not taken up any assignments as of now.
You created a controversy in you previous movie and there were lots of negative comments coming your way. How do you deal with the situation?