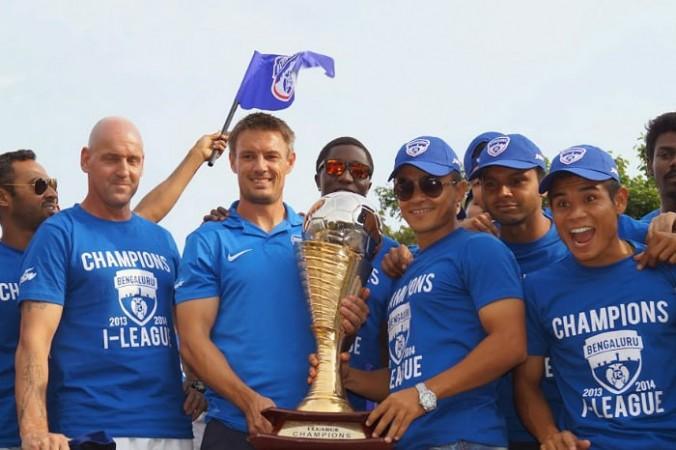 Bengaluru FC manager Ashley Westwood says that the Blues are looking "very strong" ahead of the new I-League season, insisting he is pleased with his side's performances of late.
The Blues have had a good run ahead of the 2014/15 ISL season, making it to the semifinals of the Durand Cup and emerging victorious in the Federation Cup following a preseason tour of China and other Asian countries.
And Westwood, who helped Bengaluru FC clinch the title in their maiden I-League season, feels that his side have prepared well ahead of their title defence.
"We have had a real progressive preseason. We managed to get outside into China, into Asia. We've had some competitive friendly matches. We've had the Durand Cup, the Federation Cup," the 38-year-old told reporters at a press conference ahead of his side's I-League opener against Dempo SC.
"We feel we have achieved the fitness levels we want to. We are looking strong and hopefully it's going to stand us in good stead ahead of the forthcoming season."
The former Manchester United defender feels Bengaluru FC's opening game against Dempo at the Sree Kanteerava Stadium is going to be "just another football match", insisting that he cannot judge Arthur Papas' side by "what they've done before."
"It's just another football match," added Westwood. "They [Dempo] have a couple of foreigners that will come into their squad who weren't available last time, and they do have one or two injuries.
"So until we see the teamsheets, we won't be able to judge by what they've done before."
Westwood also revealed that their marquee player Josh Walker, who picked up a hamstring injury during Bengaluru FC's triumph against Dempo in the final of the Federation Cup, will undergo a late fitness test ahead of the match on Saturday.
"Josh Walker came off with a hamstring strain in the last game, so he'll undergo a fitness test in the morning. We're not too sure where he will be. Hopefully he will be fit but who knows," added Westwood.
"He is the only one really who we have injured from the last game. Apart from that everybody is available. We'll all be raring to go."
Despite admitting that it will be tough for them to replace a player like Walker (if he is sidelined for Saturday's game), Westwood feels that this is a great opportunity for his other players to prove themselves.
"Josh [Walker] is a foreigner, a marquee signing so it will be tough to replace him," said the Englishman. "But that's football and it's a great opportunity for someone else to come into the side and stake a claim and make it hard for him [to come back into the team] when he's fit."