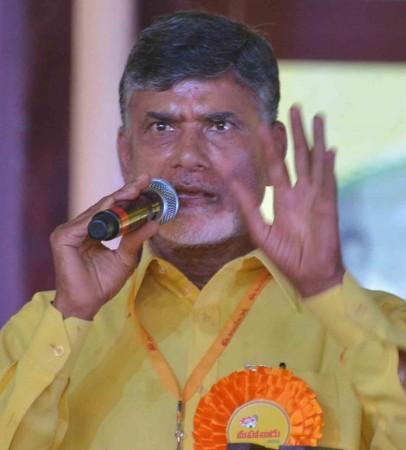 Fearing personal security of its leaders, officials and the residents of the city, the Chandrababu Naidu-led TDP government has decided to set up its own police stations in Hyderabad, which is the joint capital of Andhra Pradesh and Telangana.
TDP ministers K Acchanaidu, Ravela Kishore Babu and Pratipati Pulla Rao revealed the party's decision to the media. A Special Investigation Team (SIT) will also be formed to probe the phone-tapping case against Telangana Chief Minister K Chandrasekhar Rao.
Meanwhile, Union Minister of State for Science and Technology YS Chowdhary said they have warned of counteraction against the KCR government if they serve any notice to Naidu.
"There are about 87 cases registered against KCR in Andhra Pradesh. If they serve notice to Naidu, we will serve notice to the Telangana chief minister," said Finance Minister Yanamala Ramakrishnudu, according to The Times of India.
"For every action, there will be a reaction. If the Telangana government goes a step ahead in the Revanth Reddy case, we will also launch counter-action," Yanamala Ramakrishnudu told TOI.
Ministers Acchanaidu, Ravela and Pratipati claimed that the Andhra Police has evidence of the the Telangana government tapping the phones of 120 of its politicians, bureaucrats and police officers. "This can lead to the collapse of the TRS government," they claimed.
On phone tapping by the TRS government
While the Telangana government has refused to tapping Naidu's calls, the Andhra Pradesh government wants a written statement from KCR saying that they did not indulge in any such act.
"One the on hand, they say that some conversations have been taped. On the other, they insist they did not resort to phone-tapping. If it is the latter, how did their ACB get evidence of the conversations and how was it leaked to the media? Can the Telangana government give in writing that they have not tapped phones," Acchanaidu, Babu and Pulla Rao said.