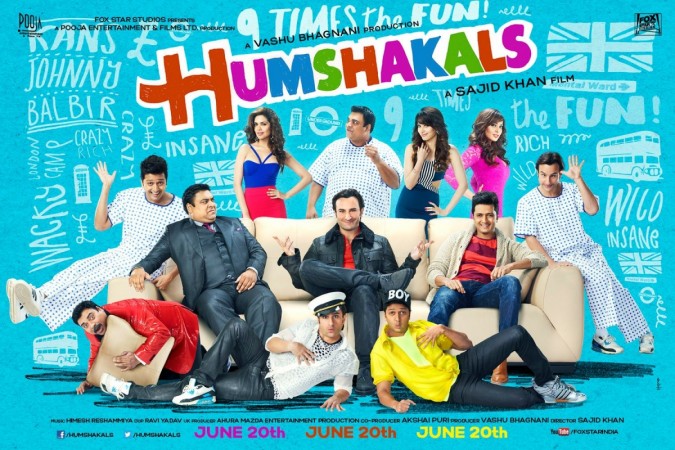 Sajid Khan's comic caper "Humshakals" has opened to poor reviews from critics, who have termed it as a boring, over-the-top comedy film.
"Humshakals" has Saif Ali Khan, Ritesh Deshmukh and Ram Kapoor in triple roles and with the same names. After the debacle of "Himmatwala", Sajid has made a film in his forte – comedy. However, the comedy entertainer has failed to impress the critics.
Story: UK-based business tycoon Ashok Singhania (Saif) has a desire to become a stand-up comedian. He has a close friend Kumar (Deshmukh) and they are like brothers to each other. They lead a happy life, which gets disrupted by Ashok's evil uncle Kunwar Amar Nath Singh aka KANS (Kapoor). The wicked uncle dreams of inheriting the business empire by declaring Ashok mentally unstable. He cleverly feeds Ashok with a mind-altering drug that makes one behave like an over-excited dog. His friend Kumar also gulps down the drug and they both are sent to a mental asylum. There the look-alikes of Ashok and Kumar, with the same names, are lodged in a neighbouring ward.
Ashok and Kumar also find a look alike of the evil uncle. If that's not enough, there is a third pair of doppelgangers, who appear as effeminate characters and even there they come across a look alike of the evil uncle. Besides the leading actors, Esha Gupta, Bipasha Basu and Tamannah Bhatia are also part of the cast just appearing as eye candies.
Check below the review roundups of "Humshakals"
Saibal Chatterjee of NDTV said, "Humshakals is consistent in one respect: the only way it goes is down. The gags turn more and more grotesque as the film progresses, ending in such an unseemly heap that it becomes impossible to fathom what the hell is going on."
Nandini Ramnath of Live Mint said, "Since everything is multiplied three times in Sajid Khan's latest comedy, it's totally fair to complain that Humshakals is thrice as excruciating as films in this genre."
"The movie, which barely improves on its trailer, is a failed over-the-top comedy in which every single moment is spelt out in skyscraper-high letters. The plot is partly set in an asylum but is bereft of the insane, David Dhawan-esque glee required to carry through its premise of triple roles," she said.
Regarding the performances of the actors, Sweta Kaushal of Hindustan Times said, "Riteish is the one who might be of some interest in the film, followed by Ram Kapoor. Despite all odds, Riteish seems to pull off the gag-act perfectly. Ram does a decent job of playing the mean mama - KANS, and he has his moments."
"Saif is the worst of all — he is unconvincing as the man behaving as a dog, as the waitress. Just about everything he does in the movie is like he's just sleep-walking," she said.
Manjusha Radhakrishnan of Gulf News said, "If you are willing to suspend belief for nearly three hours, then this mad bunch may make your day. But for others, it's just torturous. At some point in the movie, we saw a DVD of Himmatwala (Sajid's recent box-office debacle) being displayed as a weapon of torture for mentally unstable inmates who break hospital rules. Shouldn't Humshakals feature on that list too?"
Mohar Basu of Koimoi said, "Humshakals is the lowest form of buffoonery I have seen this year. It would have been way more harsh if Ram & Riteish were missing from the film. Loaded with indecipherable dim wit, the film is an odd mishmash of pathos and drudgery. Unfunny and strictly for juvenile, I am gonna take the day off to decide whether Himmatwala was better than this. Meanwhile, stick to FIFA and stay away from the cinemas. Going with a very lenient 1.5/5, I am on the brink of lunacy after watching some glop like this."
Verdict: Boring, Over-the-top comedy film