American actor, producer, and screenwriter Steven Seagal once said: "It is a lot harder now to be a police officer than what it used to be." While this may be true in a lot of cases, especially with terror attacks, something that probably remains unchanged is the way policemen love and respect their profession.
International Business Times India recently witnessed this side of policemen when Bengaluru city police commissioner T Suneel Kumar visited the organization and interacted with the staff members. He detailed his job and the profession in general but insisted that he was happy doing it. "Challenges apart, this profession gives a lot of happiness and sense of satisfaction," he revealed.
But how did it all begin? Kumar opened up on his humble beginnings. He studied in a Telugu medium school until fourth standard and was introduced to English alphabets only in the fifth standard. After school, he moved to a bigger town at the age of 15 and life took a different, but a good, turn. There was no more food cooked by mother but greater opportunities of life beckoned.
At the time, government jobs were all the rage and Kumar took up a course in agriculture, something that would guarantee him a job in three months. "We only had to register at the employment exchange after passing the 4-year course. A government job as a gazetted officer would be automatically awarded in three months' time. And the salary those days was Rs 1,200," he told IBTimes India.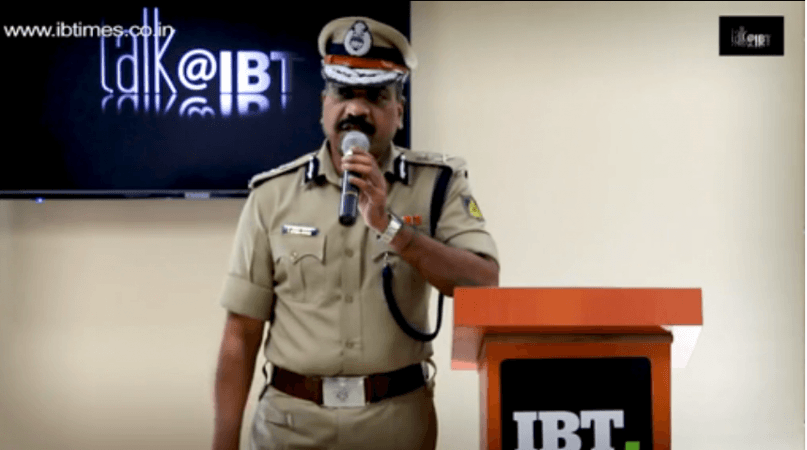 However, proving that things cannot always be planned, life took him to New Delhi, where he joined the master's programme at the Indian Institute for Agricultural Research. "The vistas widened in front of me as I reached Delhi. I got exposed to the world of competitive exams and kept bumping into friends and acquaintances who cleared the IAS, IPS and the IFS. One day, a couple of us went straight up to the Dholpur House, where the Union Public Service Commission is headquartered."
From a masters in agriculture to a cop
Kumar went on to clear the Indian Forest Service (IFS) but continued dreaming about becoming a "cop on a bullet."
"Those were the days when the thud of a bullet motorcycle invariably meant a police officer was around. Maybe a childhood fantasy was re-lived!"
He then joined the police academy and began his rigorous training with "a very close haircut!"
Challenges in the life of a policeman
Explaining that the challenges cannot always be specified, Kumar said that they come in all forms – from criminals smarter and more intelligent than the police to a short-staffed force. He also said that it is unfair that people expect policemen to be deployed in every corner of the street and instead people could help the force and abide by the law.
"There are many who would look here and there and jump the signal if a policeman is not around. You say they abuse you... but why don't you obey the laws in the first place?" Kumar asked. "My challenge is to make literate people follow the rules. And that's a tough task. Last year I collected Rs 100 crore as fines, but the irony is that it's not my target and I'm not a revenue officer."
However, he said that the working conditions for the police have improved and is a work-in-progress.
So, then can we expect a people-friendly police force?
Well, Kumar says that it also depends on the residents of Bengaluru. "It happens when the civic sense is really good. The example is the police force in London, where the cop is called "Bobby". Let us bring London police to manage Bengaluru, then we will realize if he's a Bobby," he explained.