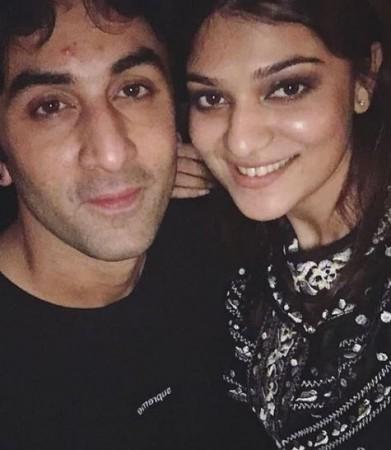 South actress Aditi Gautam, who played the role of Priya Dutt in Sanju, was not comfortable calling Ranbir Kapoor "bhaiya" (brother).
Aditi while narrating an incident during shooting for a particular scene for the movie, said that it was very hard for her to call Ranbir Kapoor as "bhaiya".
"It was very difficult for me to call him 'Bhaiya' in the first place. How can I? He is Ranbir Kapoor after all and I was like I can't do this (Laughs). But somehow I managed. So there was this one scene where I had to call him Bhaiya loudly, unlike normal times, and somehow I could not make myself raise my voice. And after a few takes, the sound dada had to intervene," Hindustan Times quoted Aditi as saying.
Aditi, who made her Bollywood debut with Sanju, is very impressed by Ranbir for his 'humble' nature and talent.
"He is a humble and superbly talented actor. We would chill over coffee and have this conversation about how south Indian film industry works etc. He is one actor who makes sure that he give his best at every shot, which at times helps the actor opposite him perform better. The way he used to get into the character is commendable," she said.
Aditi further said that initially she did not think that she would look appropriate playing the role of Sanjay Dutt's sister, but it was director Rajkumar Hirani's vision. She said that she could not believe her eyes after she saw herself with makeup as she resembled Priya so much.
The movie Sanju has turned out to be one of the biggest blockbusters of the recent past. The movie has been having a brilliant run at the box office and is showing no signs to slow down. With no major release in the coming days, Sanju is expected to continue its dominance for some more days.