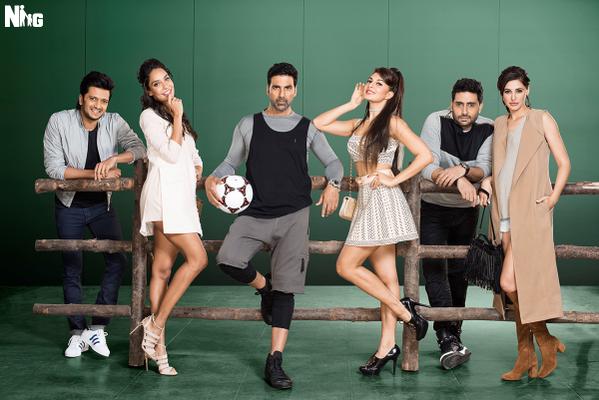 Directors Sajid-Farhad's Bollywood movie "Housefull 3" (Houseful) starring Akshay Kumar, Abhishek Bachchan, Riteish Deshmukh, Jacqueline Fernandez, Nargis Fakhri and Lisa Haydon, has received mixed reviews from audience.
Check: Housefull 3 Review | Akshay on Kapil Show | Music Launch
"Housefull 3" is a light-hearted romantic comedy film, which is the third instalment in the "Housefull" film series. The movie revolves around the story of a father who doesn't want his three daughters to get married. How three men try to convince him and marry his daughters forms the crux of the movie.
Audience say there is nothing big to boast about the story of "Housefull 3," which has been brought to screens a few times in the past. But the director duo has tried to make comedy scenes and WhatsApp jokes. The first half of the film keeps viewers engaged with some comedy scenes, but the second half has a slow-paced narration, which appears boring. However, the climax is good and wraps up the things well.
The viewers say Akshay Kumar, Abhishek Bachchan, Riteish Deshmukh, Jacqueline Fernandez, Nargis Fakhri and Lisa Haydon have delivered good performances in "Housefull 3." Their comedy timing and sparkling chemistry are the highlights of the movie. Boman Irani, Johnny Lever, Jackie Shroff and Chunkey Pandey have done justice to their roles and their performances are among the assets of the film.
"Housefull 3" has been produced by Sajid Nadiadwala under his banner Nadiadwala Grandson Entertainment and it has rich production elements. Music, picturisation, punch dialogues, selection of beautiful locales and costumes are the attractions on the technical front, add the viewers. We bring you some viewers' verdict shared on Twitter. Here is the live update of the "Housefull 3" movie review by audience:
Taran Adarsh ‏@taran_adarsh
Comedy is serious business and #Housefull3 lives up to the humongous hype + enormous expectations attached to the franchise... #HF3 Entertainment is the lifeline of #Housefull series. Sajid-Farhad ensure #HF3 stays faithful to genre. Laughs, gags, punches - it's a riot... Akshay, Riteish, Abhishek take the comic quotient notches above the ordinary. Comic timing . Trio is the lifeline of #Housefull3... #HF3 Jacqueline stands out amongst the leading ladies, while Jackie Shroff, Boman Irani and Chunky Pandey are pitch perfect... #Housefull3 #HF3 For those who relish zany, madcap entertainers, with loads of laughter + dollops of entertainment, #Housefull3 is a treat. #HF3
Shiva Satyam ‏@AsliShiva
#Housefull3 is Complete Entertainer film, which would be watched by each & every section of audience & they will enjoy it a lot. All the actors of #Housefull3 have done great performance @akshaykumar @Asli_Jacqueline @Riteishd @juniorbachchan @HaydonLisa @NargisFakhri. Overall #Housefull3 has all the elements to get success at the box office.Sajid Farhad have done well job.Bollywoodhungama Ratings is 3.5* #Housefull3 is best comedy film in recent year, All set to take bumper opening. Masses as well as classes go gaga over it.
Kaushal Sengar ‏@ethantery
#housefull3 is a mindless comedy film, Which have its moments but very less in number. Should do well because of the franchise factor. #Housefull3 @akshaykumar is superb undoubtedly one of the most versatile actor in Bollywood. He plays his part with ease in the movie. #Housefull3 on the ladies part jacequline has also done good and supporting actors have also played a very good role. Overall the comic acting saves this movie from mindless plot and with average music.
Vinay Prabhakar ‏@akkivinaya
Imaginary character #Sundi stole the show.Sundi is very impressive & Only @akshaykumar can do d justice with d character #Housefull3 After @akshaykumar It's #Ritesh who impressed most.Abhisekh played his character well but could not match Akki and Ritesh. #Houseful 3Housefull3 is true to it's genre maker has not tried anything new their target is 2 make laugh riot & they succeeded. #Houseful3 is 4 fun loving people, Those who r disappointed with life It will work like a medicine for them. Sure Shot winner @akshaykumar
Prince Prithvi ‏@PrincePrithvi
Overdose of WhatsApp jokes & those 3 irritating actresses Only saving grace >> Akki & Ritesh #Housefull3 ~ Weakest sequel in this unnecessary franchise! (2☆/5)
I .. Me .. Myself ‏@SKPlace_Team
Watched #Housefull3 truly loved .. Entertainer amazing ... #akshaykumarwas perfect also #@juniorbachchan was amazing Amazing
Happiness ‏@Travellerworld_
#Housefull3, is such a pain ,i even couldn't watch whole movie .Only good thing about #Hf3 is Akshay kumar.
Sha ‏@shatweeted
#Housefull3 has been watched. thought it was a slap stick but came out as routine and pretty ordinary flick. dint like it
Laboni Karmokar‏@LKarmokar
Watched #Housefull3 . Its simply awesome. @akshaykumar 's comic timing is superb. He is too gd throughout the movie. Must watch.
Umair Sandhu ‏@sandhumerry
UAE Review #HouseFull3. FULL on Paisa Vasool Comedy flick ! @akshaykumar Steals the Show all the Way. @Riteishd @juniorbachchan @Asli_Jacqueline @NargisFakhri @bomanirani @bindasbhidu ROCKED. Best Family Movie this Summer. Go for it. ☆☆☆☆ @HaydonLisa @Asli_Jacqueline @WardaNadiadwala Paisa Vasool Comedy Entertainer. Cracky Jokes & Rocking Music. ☆☆☆☆ @NGEMovies @ErosNow
Chennai Akkians ‏@CHENNAIAKKIANS
#Housefull3 Review: A slapstick comedy with mind blowing performances.. On the whole a complete entertainer for 134 mins! Must watch!
Partha De ‏@parthade094
Watched #Housefull3. Its simply awesome. @akshaykumar's comic timing is superb. He is too gd throughout the movie. Must watch.
Prachee Shah Paandya ‏@PracheePaandya
#Housefull3 is a laugh riot ! @akshaykumar @Riteishd @juniorbachchan make a crazy trio! @bomanirani is craziest! #FarhadSajid great job!
Kaushal Jain ‏@kKaushaljain
Watched #Housefull3 .Its simply fantastic. @akshaykumar @Riteishd 's comic timing r superb. Will be Highest grosser of the year. #MustWatch
Aman ullah khan ‏@amanclarke
Watched #Housefull3 in Cinema Is Spectacular and Mind Blowing movie.......Specially @akshaykumar is marvellous Fabulous. @Asli_Jacqueline Ma'am You r Awesome Act in #Housefull3 that Y I am crazy Jabra Fan of you
Muhammad Waseem ‏@waseem_uk
Just Watched #Housefull3 totally love it. @akshaykumar is only Bollywood's First & Last Versatile actor. #FakeIshq don't miss dis song 4*/5
ASK ‏@travelport123
#Housefull3 just watched movie in kuwiat. What a hilarious movie,awesome Abhishek akasay ratiesh rocks.. #Housefull3 is the best hilarious comedy movie in the housefull series movie..Amazing performance by all actors.A must watch.awesome movie
Movie-Man ‏@LifeNeedsMovies
#Housefull3 was absolutely intolerable. At one point I wanted to storm out but then felt my opinion would be voided. Sat through nonsense. I always say Akshay Kumar is talented but there's a limit to mindlessness. Sajid Khan was a better director choice in comparison #Housefull3
खबरीलाल ‏@raghavjaitly
Jacqueline, Nargis and Lisa will make your heart skip a beat #Housefull3 Riteish Deshmukh pulls off a Shah Rukh Khan on his introduction in #Housefull3 Abhishek is Amitabh Bachchan's fan in reel life too. But yeah, he is surprisingly funny #Housefull3 Over-acting of Chunkey Pandey's Aakhri Pasta is the essence of #Housefull3 Boman Irani is quite convincing as a protective father #Housefull3 Akshay Kumar's acting abilities aways tend to amaze us. After a serious character in Airlift, his hilarious moves r applaudable #Housefull3 Right twists and turns at the right time are making #Housefull3 more interesting. So far, so good
Bucky ‏@paramaanandam
#Housefull3 Nice movie Akshay kumar and Jacqueline were fabulous Abhishek was wasted yet again Pakka time pass flick My rating 3.5/5 Comedy scenes were highlight Particularly tht beach comedy scene Rofl #Housefull3