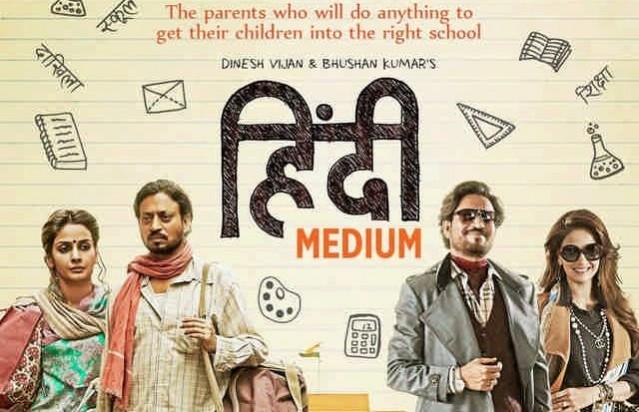 RATING: 3.5
MOVIE: Hindi Medium
CAST: Irrfan Khan, Saba Qamar, Deepak Dobriyal, Amrita Singh
DIRECTOR: Saket Chaudhary
Actor Irrfan Khan is all set to win hearts once again with his movie Hindi Medium, which gives you a reality check of today's education system in India. Director Saket Chaudhary has turned the simple concept to an amazing story which will make you laugh, cry and worry about the system.
The movie is especially for parents as it deals with the admission system of elite schools and focuses on a language that decides one's class in the country – ENGLISH.
PLOT
Raj Batra (Irrfan), a businessman, and his wife Mithu aka Meeta (Saba) struggle to get a nursery seat for their daughter in an elite English medium school. Based in Delhi, the couple, especially the wife, desperately wants their child to go to one of the top five schools in the capital. Thus, she forces her husband to shift from Chandni Chowk to Vasant Vihar and turn into an elite "English speaking" couple. She tries a lot but fails to change her desi husband, who can do anything to make his Mithu happy.
The film shows how the education system in India has become a business for schools and how the English language has demeaned other Indian languages. To get an admission in nursery, parents consult agents to prep them for admission interviews. The twist in Hindi Medium comes when the kid fails to get into one of the top school. Heartbroken Raj and Mithu, then find out that they can get their daughter admitted through RTE (Right to Education). Thus, they pretend to be poor so that their daughter gets a seat through "gareeb quota." This is when they meet Shyam (Deepak Dobriyal), who helps them through the process. Whether Raj and Mithu are able to admit their daughter in the elite school or they get caught and land in jail, form the crux of the story.
PERFORMANCES
Irrfan Khan is in his usual best. His performance will make your day. Irrfan plays the typical Chandni Chowk guy who will leave you in splits. Saba has done a brilliant job in Hindi Medium. The Pakistani actress has given tough competition to Irrfan in terms of acting. However, the highlight of the movie is Deepak Dobriyal, and his acting will make you fall in love with him.
POSITIVES
Hindi Medium's story is quite unique and fresh, and the best part is that it has been executed very well. All the actors have done justice to their roles, including Amrita Singh. She plays the principal of the elite school. The movie has truly exposed the admission system and how English is the important factor. As Irrfan says in the movie – if a French guy speaks wrong English, nobody will say anything, but if an Indian guy has bad English, then people will judge him and decide his class. The movie has also highlighted the condition of the poor section of the society that wants kids to study in good English medium school, but fails to do so.
NEGATIVES
The movie is a bit slow and was not that relatable to real life. It focused on English medium elite schools, but in real life, nobody will go to such extents to get admission to these places.
VERDICT
Overall, Hindi Medium is a must watch for parents who have joined the race to send their children to these elite schools. Also, watch the film to have a good laugh as Irrfan is hilarious in the movie. However, Saba and Deepak have outshined Irrfan a little bit.
Watch Hindi Medium trailer: