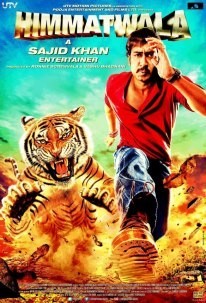 Sajid Khan's directorial action comedy "Himmatwala" starring Ajay Devgn and Tamannaah has been released. The much-hyped film was expected to open with a roaring response, but it had a dull opening in theatres across India.
The film is a remake of 1983 blockbuster movie with the same name. The massive promotions and the fact that "Himmatwala" is a remake have created lots of hype for the film. Also, before the release of the film Sajid Khan declared that it will be a hit and join the ₹100 crore club.
Sajid Khan's previous three films "Heyy Babyy", "Housefull" and "Housefull 2" were back-to-back successes and were declared box office superhits.
The director, who is over-confident with his film, said that "Himmatwala" is definitely his best and most entertaining film till date. He also said that the film would be his and Ajay's biggest hit.
But the film opened to a poor response as compared to the other three films. The opening was better in some circuits but was flat overall.
For 2013, except for Saif Ali Khan's "Race 2" all other films failed to make it big at the box office. "Race 2" was the only film that crossed the ₹100 crore mark and was declared a hit after four weeks of its release.
Several critics were dissapointed with "Himmatwala" and penned down negative reviews. Movie buffs also took to social networking site Twitter and criticized both the director and the film.
But as Sajid had said before, box office collections speak a completely different story. Now, all one can do is just wait and watch whether the film will fail or become the first superhit film of 2013.