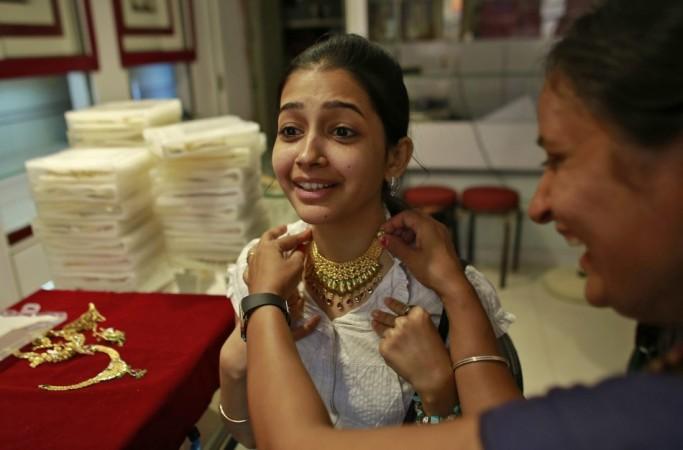 The success of the Modi government's proposed gold monetization scheme depends on paying higher interest rates to customers and waiving regulatory norms for banks, according to a brokerage.
In his budget speech this year, Finance Minister Arun Jaitley had announced the government would introduce a gold monetization scheme replacing the 1999 gold deposit scheme.
"Depositors want higher interest rates, while banks want regulatory exemptions. If these are provided, then the scheme may be successful," Japanese brokerage Nomura told The Economic Times.
Under the new scheme, the government plans to mop up gold worth nearly Rs 60 lakh crore from households and institutions. Customers depositing gold with banks will get tax-free interest.
According to the draft guidelines, the minimum quantity of gold to be deposited under the scheme should be 30 grams and the interest rates offered on such deposits have been left to the banks.
"Banks need to propose at least 3 to 4 percent interest rate to attract gold depositors," Bachhraj Bamalwa, director at the All India Gems and Jewellery Trade Federation, told Reuters.
Currently, banks offer only 1 percent on gold deposits.
"The 1999 scheme offered an interest rate of 0.75-1% and flopped. For this scheme to take off, interest rates will have to be attractive," Keyur Shah, chief executive officer of Muthoot Exim, told Livemint.
Further, the government needs to address the concerns of banks for the scheme to take off, as the guidelines in their present form seem less encouraging for them.
Many banks are concerned about the costs of administering the proposed gold deposit scheme, saying the government should give subsidies to enable banks to lure reluctant people to part with their gold, since the yellow metal is seen as a source of financial security.
"Initial subvention from government may be required to make the scheme attractive (for banks)," said Shekhar Bhandari, executive vice-president of Kotak Mahindra Bank.
The government plans to curb gold imports by introducing the scheme, as the country imports about 800-1,000 tonnes of gold annually.
India is poised to pip China as the world's top consumer of gold in 2015, according to the World Gold Council.