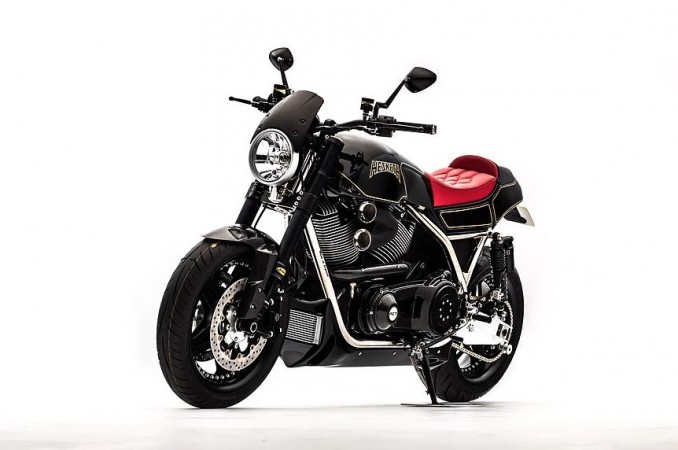 Hesketh Motorcycles is not a familiar name among the biking enthusiasts in India. In fact, it is not a prominent player as Ducati, Harley-Davidson or Triumph in the international circuit as well. Having said that, the British firm currently based out of Kingswood, Surrey, England is not exactly a new kid in the block.
Also read: Is this is the most expensive bike in India? Ducati 1299 Superleggera launched at Rs 1.12 crore
Have you heard about Hesketh Racing, the last of the true privateer teams in Formula 1, back in the 1970s? Hesketh Racing ran from 1972 to 1978 in F1 and gave James Hunt his start in Formula 3. When the team shut its shop, Lord Hesketh decided the market needed a true English motorcycle. And presto, Hesketh Motorcycles was born.
Hesketh Motorcycles has recently unveiled a motorcycle named Valiant. In many ways, Valiant is a collector's item. However, it offers many segment leading features. Here are the six things you need to know about the Valiant.
1. Valiant is powered by a massive 2100cc V-twin engine assisted by supercharging. The S&S X-Wedge motor is attached to Rotrex supercharger, with tuning handled by supercharger specialists TTS Performance.
2. The mill develops 210bhp power and 294Nm of torque making it the biggest production v-twin in the world. The outfit is reportedly planning to increase the power output even further to around 250bhp when the bike is tested later this year.
3. To keep the British motorcycle tag, the Valiant features most of the underpinnings sourced from the British makers. The classic single pod Speedometer is developed by Smiths while the frame and swingarm are produced by Nottingham-based GIA engineering.
4.The name Valiant comes from the cold war bomber, the Vickers-Armstrong Valiant, a high-altitude bomber used by the Royal Air Force in the 1950s.
5.The Valiant is the first Hesketh motorcycle to feature the company's exclusive H logo that belongs to company's engineering and development department.
6. Hesketh Motorcycle will sell the Valiant for an anticipated retail price of £50,000 (Rs 40 lakh approximately) from 2018.