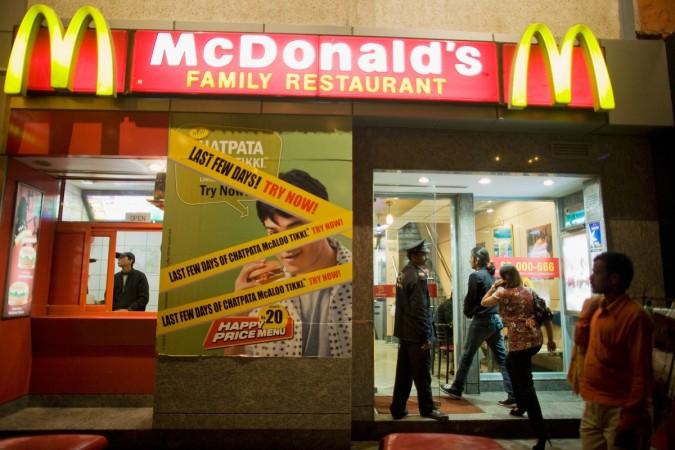 As many as 43 McDonald's restaurants in Delhi have been shut down with immediate effect from Thursday, June 29. As a result of this closure, the jobs of 1,700 people have been left in the lurch.
The closure is believed to be the result of infighting between McDonald's itself and Connaught Plaza Restaurants Pvt Ltd (CPRL), which is an equal-partners joint venture between the US-headquartered company and Vikram Bakshi.
The decision to close the outlets was taken in a meeting of the CPRL board on the morning of Wednesday, June 28.
CPRL, which currently operates 168 hotels across India, ran several McDonald's outlets in northern and eastern India. But that was before ties between Bakshi and McDonald's soured when he was ousted as managing director of CPRL in 2013, and the MNC approached the London Court of International Arbitration against him.
Why the closure?
Both Bakshi and McDonald's India have claimed that the closure is "temporary."
"It's unfortunate, but operation of 43 restaurants operated by CPRL has been temporarily suspended," Bakshi — former managing director of CPRL — was quoted as saying by an Economic Times report.
That means many Delhiites will find their nearest outlet of the Golden Arches closed. There was a total of 55 McDonald's outlets in Delhi before 43 of them were closed on Thursday.
The ET report quoted highly-placed sources as saying that "CPRL failed to get the mandatory regulatory health licences renewed because of the infighting between Bakshi and McDonald's."
Mcdonald's version
McDonald's India on Thursday confirmed the licence expiration part to IBTimes India, but also held out hope that the restaurants would be reopened.
It said in a statement: "The Eating House Licences of a number of McDonald's restaurants in Delhi have expired. The board of CPRL is working to obtain the required licences. Pending this, CPRL is temporarily suspending the operations of the affected restaurants."
It also said about the 1,700 people employed in the 43 outlets: "The comment in the media stories on employees becoming jobless is erroneous. We understand that CPRL is retaining the employees of affected restaurants and will pay them their salary during the period of suspension. Please confirm this with CPRL."
Beginning of the end?
The report also speculated that the closure of these outlets could be the beginning of the end of McDonald's in India. Brand strategist Harish Bijoor was of the opinion that McDonald's should look to ending its legal battles so it can shift its focus back to the rest of the business. "Every passing day is a slur on the front-end brand." he told ET.
If McDonald's indeed sells its operations, it could mark the second step in a series of such pullouts by the company that has been taking place across Asia. Only earlier this year did it sell its China and Hong Kong operations in a multi-billion-dollar deal.