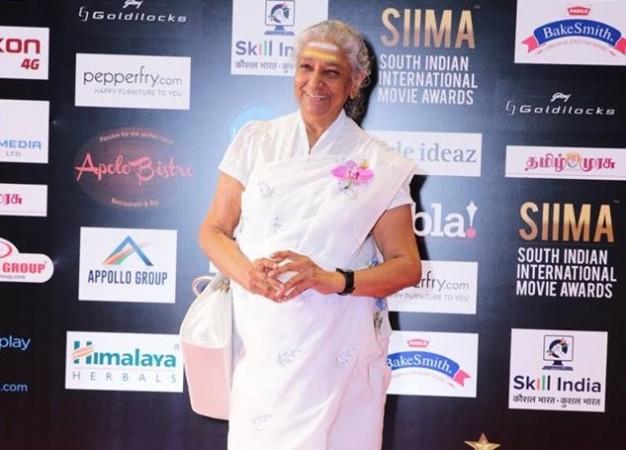 S Janaki, the Nightingale of the South, was "killed" by social media users based on rumours on September 22. Hoax messages about the playback singer started doing the rounds on social media after news of her retirement hit the headlines.
Janaki, who has rendered her voice for more than 48,000 songs in different languages, announced her retirement from singing with a lullaby she sung for Malayalam movie 10 Kalpanakal.
Also read: S Janaki death hoax
Calling it a beautiful song dedicated to all the mothers, the singer, who is fondly called Janakiyamma by her fans, said: "I have sung a song for the movie 10 Kalpanakal. Mithun has beautifully composed the music of the song and is penned by Roy."
"I have sung this song for all mothers and I request all of you to sing this for your kids every day. I am very happy to sing this after a gap and am not sure if I will sing again. It is such a beautiful song," Janaki added in a video uploaded on the YouTube page of Metromatinee.
Don Max, director of 10 Kalpanakal, said that he was blessed to have Janakiyamma as a part the project. "She had beautifully sung one of the song for 10K Amma poovinum...But at the same time it's sad to know that she quit her singing career.THANKS AMMA .we dedicating this song for all mothers out there [sic]," Don Max wrote on his Facebook account.
The 78-year-old singer has decided to rest in her retirement life. She began her career with Tamil movie Vidhiyin Vilayattu in 1957 and has won four National Awards and 32 state film awards, in Tamil, Malayalam, Telugu and Oriya.
Meanwhile, the upcoming movie 10 Kalpanakal, helmed by editor-turned-director Don Max, stars Anoop Menon, Meera Jasmine and Kaniha in the lead apart from Murali Gopi, Thampy Antony, Joju George and Anumol in supporting roles. In the movie, touted to be a crime drama, Meera will make her comeback to Malayalam cinema in the role of a police officer.
Watch the video of S Janaki here: