Foods and drinks frozen with the help of liquid nitrogen indeed look fancy, but the chemical proved dangerous for a 30-year-old businessman from New Delhi and lefty him with a gaping hole in his stomach.
UK: 14-year-old girl becomes first British child to be cryogenically frozen
The horrifying incident took place on April 13 when the victim went to a pub in Gurgaon and ordered the pub's latest offering -- a cocktail with liquid nitrogen. Liquid nitrogen, which instantly freezes any food item, should only be consumed only when the smoke evaporates. However, the man chugged it down before the smoke evaporated.
Within minutes, he started experiencing severe pain and his abdomen swelled up.
"When I gulped down the drink, I started feeling very uncomfortable, like how you feel when there is an acid reflux. The bartender passed me another drink and I had it, not thinking too much about the discomfort. However, within seconds, my stomach started swelling and I was in unbearable pain. Breathing was also difficult," the man said.
He was immediately rushed to a hospital where his blood tests revealed severe lactic acidosis -- a high level of lactic acid in the blood which commonly results from oxygen deprivation in the body.
A CT scan showed large free air in the abdominal cavity due to perforation of either stomach or intestines. The perforated abdomen is fairly common. But it is usually 0.5 mm to 1 mm. But in this case, the abdomen looked like an open book," Dr Amit D Goswami, who attended to the man at Columbia Asia Hospital in Gurgaon, was quoted as saying by the TOI.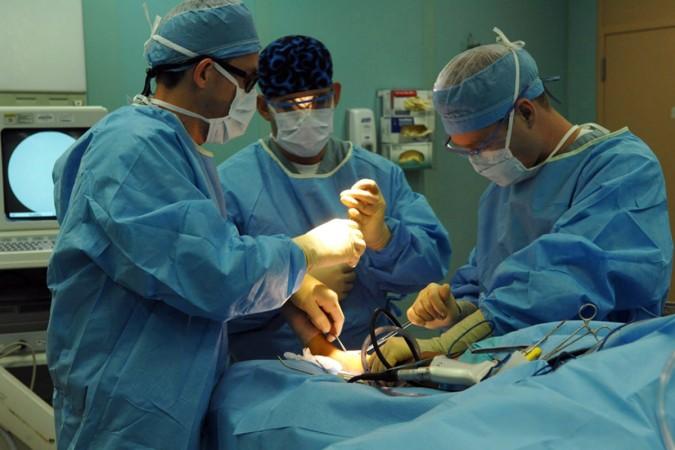 Goswami, who operated on the man, said that he was afraid that he would not survive as the stomach was open like a book in middle and lower portion and lots of food and dirty fluids had dripped into the abdominal cavity.
"Perforations are generally repaired by stitching, but in Prasad's case, we had to plan differently. Because of the large perforation and unhealthy tissues surrounding the perforation, the surgical team decided to remove the lower portion of the stomach and artificially join the remaining portion with small intestine," Goswami added.
The man was kept in the ventilator for two days but is currently doing fine.
Liquid nitrogen, which has a boiling point of -195.8 degree Celsius, is also used for removing unsightly or potentially malignant skin lesions such as warts and actinic keratosis.