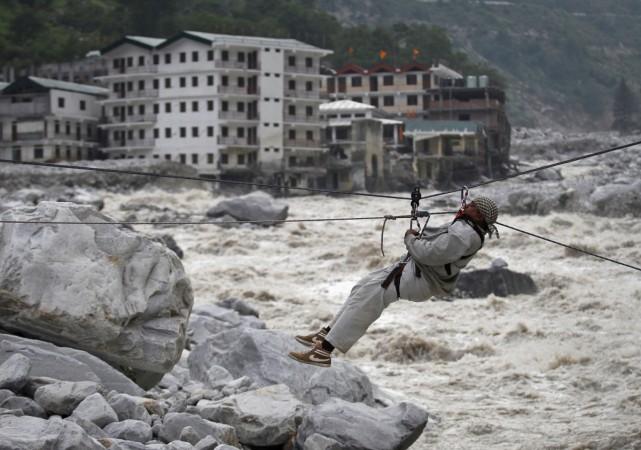 Continuous rainfall over the past two days has killed at least 27 people in Uttarakhand so far.
The incessant rainfall for two days caused flood and landslide in the state. Seven people were killed in the landslide in Dehradun's Rajpur town, while at least 20 people were killed in cloudbursts in Pauri district, according to IBNLive.
Most of the victims in Rajpur are understood to have died due to a wall collapse, as the building they lived crumbled in the landslide.
Uttarakhand meteorological department Director Anand Sharma blamed he damages to life and property on the houses built in landslide-prone areas and flood plains.
"The major damages are because more and more people are constructing and living in vulnerable areas. The people who have built their houses in the flood plain or near the flood plain or in the hills which are prone to landslides, they got affected," DNA quoted Sharma.
"The people should not construct and live in floodplains. The floodplain is for the river and not for people to live there," he added.
The rainfall reportedly washed away 32 roads, connecting 12 villages including Bergar, Dibogi, Yamkeshwar and Patti Palla, depriving around 4,500 villagers of basic essentials like food.
"We have been running from pillar to post to get these essential commodities since last night, but we will face the worst if our rations run out," The Times of India quoted Mangal Singh Bisht from a village in Pauri.
Uttarakhand Chief Minister Harish Rawat stated on Saturday that helicopters would air-drop food packets and rations to the villagers stranded in the affected areas.
Rawat also announced compensation to the families of the victims, including those of the dead and "seriously injured" in the cloudbursts and landslide.
A team of 15 State Disaster Response Fund members have already been deployed to the affected areas to carry out relief operations, while helicopters are being sent to rescue people from the flood-hit areas.