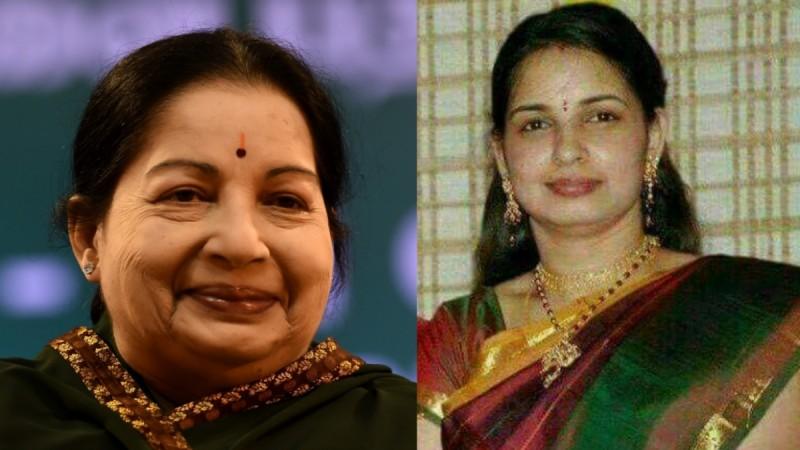 Since the demise of former Tamil Nadu chief minister J Jayalalithaa on December 5, a photo, said to be that of the politician's daughter, has been doing the rounds again on social media. Users have been forwarding it on Whatsapp and other platforms without cross checking the truth behind the story of "Jaya's secret child".
Playback singer Chinmayi Sripada, who rose with the melody Oru Deivam Thantha Poovae, has now come forward clearing the air on the rumours about the viral image. She clarifies that the person seen in the photo belongs to a respected family of musicians, and requests netizens to stop sharing the "ridiculous" story that is being "created by someone of an unstable mind."
"I received these photographs attached with ridiculous 'news'. The couple in the photograph are known to my family and they belong to an illustrious family of classical musicians. This rumour has been propagated long enough for even Google image search to return with similar results. Like they say, repeat a lie long enough and it becomes 'truth'. Please, please stop sharing ridiculous 'news stories' created clearly as a figment of the imagination of an unstable mind. She belongs to the family of renowned Mridangam Vidwan V Balaji. When he is not busy with concerts he is a part of the web series called 'Husbanned'. If people were half as interested in investing the time sharing whatsapp forwards into being better citizens, our country would be wayy better [sic]."
When Chinmayi shared the recent photograph of the woman along with the viral image, a netizen pointed out that the person seen in both the pictures looks different. "I feel these two pictures are different persons. It would be great if u can see the complete picture of the photo [sic]," for which the singer replied saying: "It will be great if you can trust me."
Chinmayi again took to her social media handle to clarify why the woman looks different in two photos shared by her.
To those who said "faces are different". Please have a heart and understand that pictures taken 6-7 years apart will definitely look different.
Meanwhile, popular Mridangam artist Trivandrum V Balaji, who is the brother-in-law of the woman in the photo, has also requested netizens to put an end to the rumour that has been annoying their family for quite some time now.
Clarification regarding my sister-in-law being portrayed as daughter of former chief minister Selvi J Jayalalithaa which has been in circulation for a while on social media. The person in this picture is my sister-in-law and we know her since her childhood and this has been annoying us for a while. Thanks to good friends like Chinmayi Sriprada and others who have done their best to clarify this in public. I request my friends and well-wishers to share this as much as possible and hence help clarify. I would request and appreciate my friends and well-wishers to share this..ur sharing is much important here. Thanks a lot.
However, it is understood that the same image has surfaced online saying the woman is Jayalalithaa's daughter.
Check out Chinmayi's Facebook post here:
-