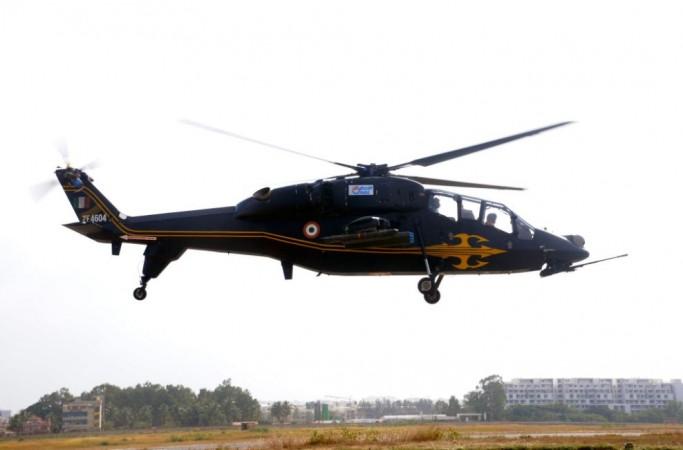 India's indigenously developed multi-role Light Combat Helicopter (LCH) is heading towards its Initial Operational Clearance (IOC), reported Mathrubhumi.
Read: Aero India 2017 Here are the aircraft you just have to see at India's biggest airshow!
Dr M Vijaya Kumar, Executive Director, Rotary Wing Research and Design Centre (RWRDC), Hindustan Aeronautics Ltd (HAL), speaking to the news outlet, said the IOC "is expected any time now," and the first limited series production (LSP) copter "should be coming out by 2018." We have finalised the production drawing for LSP, he added.
The LCH has come a long way from its first flight in March 2010, and has been designed to meet the need for an attack helicopter for Indian Air Force and Indian Army.
India is also looking at export options for LCH, and had been in talks with African countries, the Economic Times had reported in 2016.
LCH is being manufactured at the Bengaluru-based HAL facility. Totally, there are four technology demonstrators (TD) and HAL has been conducting extensive trials including the hot and cold weather trials, testing mission sensors, weapon systems and firing trials. The fourth technology demonstrator (TD-4) is "very close" to delivery standards.
The LCH has undergone some design tweaks. The prototype now features an aerodynamically sound armament boom to improve LCH's speed and handling qualities. He said they have worked on the vibration levels and door design as well.
Previously, it had displayed rocket firing and turret gun firing facilities. "LCH is the first attack helicopter which landed at an altitude of 4.5 km in the Himalayas with considerable load of weapons and fuel," Kumar said.
LCHs are cut out for high altitude. IAF would get 10 LSP variants and Army will get five. IAF will acquire 65 LCHs and Army will acquire 114 LCHs in total.
HAL said it has taken cues from Advanced Light Helicopter (ALH) or Dhruv project. The Dhruv project, according to K G Kumaraswamy, Additional General Manager, Head of Projects, RWRDC, has "great bearing" in "improving the product design."
The LCH came under criticism when the Indian Army Chief, General Bipin Rawat, highlighted its shortcomings. He said LCH does not have anti-tank guided missile (ATGM), a mainstay of attack helicopters around the world, in its current configuration.
Nevertheless, the development of LCH is progressing well at the HAL.
The LCH will be in both static and flying variants at the Aero India Show 2017.