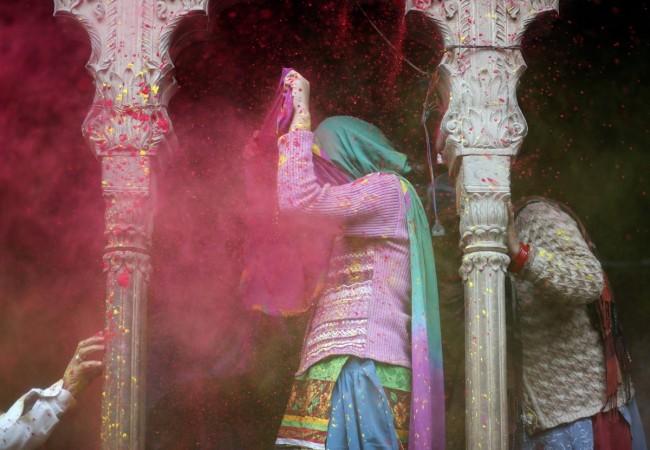 Holi celebrations may be in the minds of revellers, but in Gujarat, it has became a cause for conern this year, because of swine flu.
District authorities in the state have issued advisories to the people on how to celebrate the festival to ensure that they are not affected by the deadly H1N1 virus.
A health advisory tells people to prefer a "namaste" instead of an "embrace" or a handshake, given that the changing weather makes people more vulnerable to the disease, because they tend to gather in large numbers to celebrate Holi.
The scare has prompted Vadodara district collector Avantika Singh Aulakh to impose Section 144 of CrPC to restrict people from gathering in groups.
Health department officials said that weather change triggers the swine flu virus to spread even more rapidly and infect many people during and after Holi celebrations.
The advisory at Vadodara's SSG hospital says: "Use the colours only to do a tilak, and avoid making contact of the colours with eyes. Do not shake hands or embrace crowds, make do with a 'namaste' to greet people," reports The Indian Express.
As of Tuesday, 283 people have been killed in Gujarat because of swine flu, while 4,766 people have tested positive.
As the festival is celebrated prominently in central Gujarat, District Collectors of Vadodara, Anand and Chhota Udepur have issued advisories to people on precautions and briefed the organisers of tribal melasor fairs on preventive measures.
The organisers have been asked to keep a check on people visiting the fairs and encourage people from avoiding coming to the melas if they show symptoms of swine flu.
"...we have asked organizers to ensure that someone showing symptoms of Swine Flu or suffering from any disease should be discouraged from attending the mela," Chhota Udepur Collector Jenu Devan said.
Apart from warning people and fair organisers, the district administrations have decided to set up health counters in prominent areas as a precautionary measure.
A team of health officials will also be placed at railway stations and bus stops in Vadodara to keep a check on passengers visiting from outside.
"We have instructed officers to report any suspected cases showing symptoms to the nearest family health centre so that the virus can be contained before it spreads," Vadodara Health Officer Dr M Chari said.
The Madhya Pradesh health department has also warned people not to hug each other, given the rising cases of swine flu in the state.
It has also intiated a campaign to create awareness among people on how to avoid swine flu during Holi.