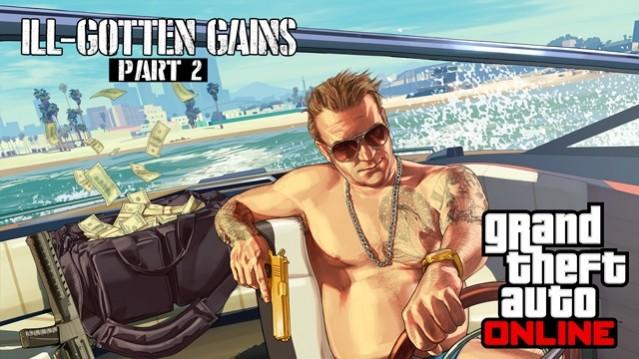 Fans have been all pumped up following the release of GTA 5 Online's latest DLC, Ill-Gotten Gains Part 2 and this weekend they finished a weekend event of double RP and double GTA money.
However, reports have surfaced about the new Ill-Gotten Gains Part 2 that follows the Ill-Gotten Gains Part 1 DLC update, supposedly has some secret and hidden items that are in its title update 1.28.
Savage Upgrade
YouTube users have been sharing videos on such secret and hidden features that are now part of the GTA 5, following the release of Ill-Gotten Gains Part 2 update.
YouTuber MrBossFTW noticed that the Savage helicopter, (Russian Mil Mi-24 "Hind") received an update that allows players to use the co-pilot camera to fire missiles from the helo.
Progen T20 Spoilers can Break
The Progen T20 was introduced in the game as a part of the Ill-Gotten Gains Part 2 DLC. It was noticed that the car has a retractable spoiler in the rear. This spoiler can be removed by players after considerable damage to the car.
So, players wondering why the spoilers are not working this could be one reason.
Knuckle Dusters can be used in Water
It was also revealed that the newly released weapon, Knuckle Duster, can be used in water too. Previously there were only two weapons that were usable in water in GTA 5.
Coil Brawler Floating Rumours
The rumours that Coil Brawler can float in water is real. The off-road heavy-duty vehicle can put its weight on its back tyres and hence looks like its floating.
However, the vehicle will sink if players go slow and are in deep waters.
Secrets on Lester's Computer
Lester is the person in GTA 5 who gives the players tasks and various missions. He explains to the players what is at stake. He is usually found in his house bound to the wheel chair.
Though players normally cannot see what his computers run. YouTuber MrBossFTW has shared what is seen flashing in one of the monitors in his house. So Lester has been reportedly purchasing some inappropriate content, what looks like sex toys via Maze Bank.
Secrets on Dr Friedlander's Computer
Dr Isiah Friedlander is a professional therapist and also a radio host in GTA 5. YouTubers have been able to see what was on his computer screens too. A calendar was shared with fans showing off his monthly schedule. He has plans of doing the Yoga, going to tennis class and the doctor. But there are two very interesting things in this. On 22 September, in his calendar, it read, "Rob Bank" and on the 28 September, it reads, "Kill Everyone."
So Dr Friedlander we learn is a secret bank robber and a murderer.
(YouTube Courtesy: MrBossFTW)
Money Glitch
Though there have been constant attempts from Rockstar to fix players making use of any money glitch exploits, there has been another one that was reported.
GTA 5 tipster Suheil (via iDigitalTimes) has revealed a solo money glitch that does not bypass the 48-minute sell timer. Players must note that the original car can be sold only once.
It also revealed that players must enter an invite-only session with none in the session. The recommended dupe car for this is the Benefactor Panto.
Step 1: Ensure there are nine cars in your garage including the Dupe Car.
Step 2: Drive the car outside the garage and destroy it, the easiest method is to stay in the car and blow yourself up with a grenade.
Step 3: Once you have re-spawned, steal a car on the street and call Mors Mutual Insurance right away.
Step 4: With the Mors Mutual Insurance interaction window open in the left, drive right up to your garage door and hold down the accelerator and brake at the same time. (LT + RT on Xbox).
Step 5: Let go of the brake (LT) and press (A) immediately after. It needs to be done quickly. It will claim the insurance and drive the stolen car into the empty slot in your garage.
Step 6: Go back outside the garage.
Step 7: Walk near a road, Press Start > Online > Jobs > Play Job > Rockstar Created > Missions > Meth'd Up.
Step 8: Once in the job lobby, buy all of your ammo back to get your grenades back, then quit the job.
Step 9: You should now see your duped car on the street nearby you, get in it and take it to the garage. YOU SHOULD BE ASKED TO REPLACE.
Step 10: Replace one of the 8 cars in your garage that is not the car you are duping.
Step 11: Rinse and Repeat
Ill-Gotten Gains Part 3 to have Stunt Races?
We know that in the post on the Ill-Gotten Gains Part 2 DLC, the developer had mentioned about what it is getting ready for in the next feature that will be part of the game. Though it is not known if it will be a separate one or an Ill-Gotten Gains Part 3, it was speculated that the company might be introducing the "Stunt Races". It might feature a Stunt Arena too.
In fact, there is a stunt race feature that is available in GTA 5 Online.
Rockstar has promised it will be taking a lot of suggestions from the fan feedback. It noted that it is working on it.
(YouTube Courtesy: MrBossFTW)
When is Next Update?
It is for the first time, noted MrBossFTW, that Rockstar has given its fans back-to-back content via Ill-Gotten Gains Part 2. So to a question when it will be dropping out another one, he said that Rockstar might take a break as it recently came out with so much of new content.
To another fan question asking if there will be a Ill-Gotten Gains Part 3, he said that from the hints that Rockstar has dropped till now, it looks like there will not be Ill-Gotten Gains Part 3. Also this was an expensive DLC, both especially Part 1.
Rockstar would have let fans known, if there was a Part 3 after Ill-Gotten Gains Part 2 DLC was released.