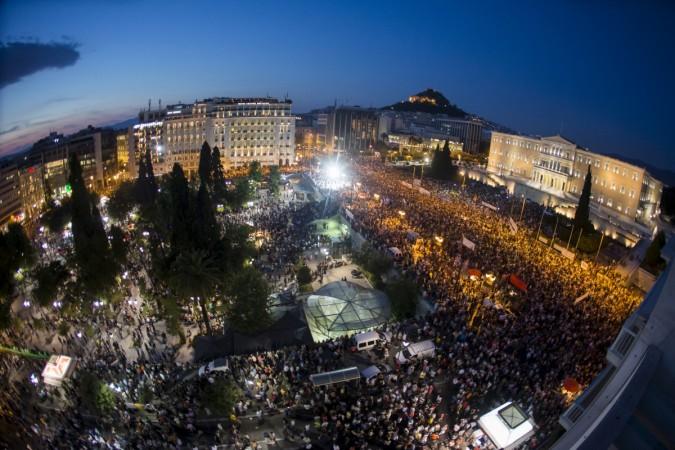 A new turn in Greek debt crisis has surprised the global financial markets this week, with stock markets, crude oil and other assets taking a hit, while giving an impetus to gold prices.
Indian stock markets had witnessed heavy selling in the opening session on Monday, with the benchmark Sensex index losing over 600 points, after concerns grew over Greece's inability to repay its debt to the International Monetary Fund (IMF).
However, Sensex recovered most of the losses and the markets closed in green on Tuesday, signalling that they will remain resilient, even as other markets suffer huge losses in the region.
Analysts see short-term volatility in the domestic stock markets due to Greek crisis, but expect the decline to be limited, as heavy sell-off by foreign investors is unlikely.
"We believe uncertainty around the whole Greece situation, will lead to global volatility and some amount of risk aversion. There might be some flight of capital from Emerging markets and into Risk havens in the next few days," Edelweiss told in a report to The Economic Times.
The financially troubled nation must repay a sum of $1.8 billion to IMF by 30 June to receive further bailout funds. The Greek government already declared its ability to meet the requirement.
Greek crisis has forced the investors to flock to the safe-haven gold, while crude oil prices declined amid fears over reduced demand.
Brent crude oil prices dropped about 2% to trade at $62 per barrel, a low not seen in more than two-months. Oil prices are already pressurised by oversupply concerns and a further escalation in Greek crisis could further weigh on the prices.
On Sunday, Greece announced closing of its banks for a week to stem intensifying capital flight from them. Greek banks will be shut until 6 July. It also restricted the amount to be withdrawn from ATMs to 60 euros ($65) a day in the week.
Further, Greece has announced for a referendum on 5 July, asking its citizens to decide on terms set by its creditors.
A no-vote in the referendum could increase the possibilities of Greece leaving the eurozone.
"The uncertainty over what will happen next in Greece should contribute to solid demand for gold and shore up the gold price," said Commerzbank Corporates & Markets in a note.
On Monday, the yellow metal prices had gained nearly Rs 240 to reach Rs 26,950 per 10g, supported by safe-haven demand. However, the metal quickly gave up the gains.
The Greek referendum will be the main focus for the markets going forward and a 'yes' vote could ease concerns to a little extent even though the problems faced by the country remain intact.
"If the Greek population were to vote "Yes" in next Sunday's referendum, we would doubtless see renewed negotiations with the European Union (EU) on further aid payments," said Commerzbank.
If Greeks vote for austerity measures and the country receiving a bail-out package as a result, will lead to some renewed interest in stock markets and crude oil. However, gold will take a hit in such a scenario.