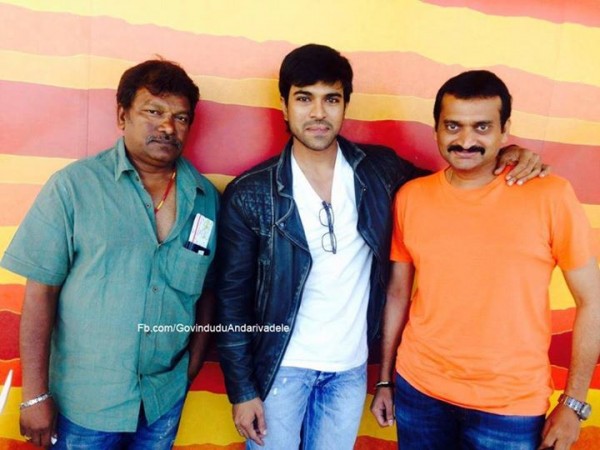 Ace director Krishna Vamshi has credited the success of his latest directorial venture, "Govindudu Andarivadele", to its hero Ram Charan Teja and producer Bandla Ganesh Babu.
"Govindudu Andarivadele" has become the biggest success of the year 2014. The Ram Charan and Kajal Aggarwal starrer has crossed ₹50 crore mark at the worldwide Box Office in 12 days. The main reason for its huge success is the wonderful script of the film. It is a family drama about an NRI visiting his grandfather's house to reconcile the differences between him and his father.
But Krishna Vamshi, the man behind the work of penning the story and screenplay, gives away the whole credit for the success of the movie to its hero and the producer and the director has a big reason for it.
He said Charan and Ganesh believed in his script and worked with him in "Govindudu Andarivadele", when other leading actors and producer are scared to do so.
Krishna Vamsi has all praises for them for backing. "When all top heroes are busy doing commercial films, Ram believed in my script and agreed to work in my film. Several producers warned Ganesh not to produce my film, keeping in mind my recent failures. But Ganesh backed my film with full confidence. I think they deserve this success more than me," IANS quoted the director as saying.
As the director says, his previous directorial ventures had failed to live up to the producers' expectations at the box office. The huge success of "Govindudu Andarivadele" has given a lease of life to Krishna Vamshi, who has all thanks for the hero and producer of the film. "I'm indebted to life to Ram as well as Ganesh for supporting me. This success has made me stronger," added the director.
However, "Govindudu Andarivadele", which has been made on whopping budget of ₹35 crore, has already recovered its production cost from its theatrical run and a decent amount of profit share in 13 days. The movie has shattered several old business records and set its own new benchmark at the box office. The film has continued to do well at the ticket counters across the globe in the second week too.