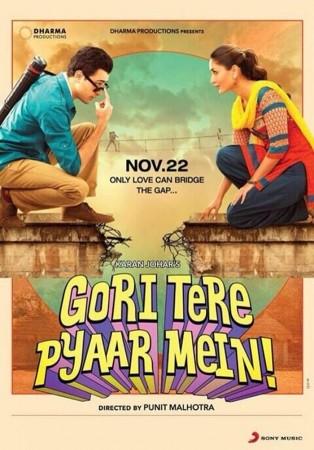 Kareena Kapoor and Imran Khan's rom-com "Gori Tere Pyaar Mein" has opened to mediocre reviews. Despite the film having an A-list cast and getting wide publicity, the film appears to be a half-baked attempt from director Punit Malhotra.
Here's what critics have to say on "Gori Tere Pyaar Mein":
Daily Bhaskar, (1.5/5) writes:
"Firstly, if you are expecting a remarkable rom-com from Gori Tere Pyar Mein, then brace yourself for a big disappointment as the film is neither funny, nor romantic. In fact, it's a break-up, patch-up saga that becomes extremely boring after a point of time.
"Gori Tere Pyar Mein is not even a slapstick comedy film that Bollywood filmmakers are churning out every alternate week. At least those films are paisa vassol, but in this film not only does the story take a backseat, but the humour element is also missing.
"Kareena Kapoor (Dia Sharma) is playing the role of a social activist, who is keen to work for the welfare of the vulnerable and underprivileged sections of the society. In fact, it is hard to believe that how such a talented actor agreed to do this role. Expecting a powerful performance from Imran Khan seems to be a crime now. Imran is playing a Tamil boy in GTPM. But neither he looked like a Tamil chap, nor did he speak any dialogue in Tamil.
"Whenever Karan Johar produces or directs a movie, it is expected to be a grand flick, but GTPM appears to be a half-hearted attempt."
Sneha May Francis, Emirates 24/7, writes ;
"It's painful. It's drab. It's unromantic. And, it's anything but funny (even unintentionally).Punit desperately tries to nail the Karan Johar style of rom-coms by packing in the staple ingredients but he's unable to tie it together. There are numerous songs and dances but none that are peppy enough. Many costume changes and dressed up backdrops, but none that leave us mesmerized. There are even attempts at being cheeky with Bollywood's infamous romances by referencing lines/songs/moments, but none of the efforts are impressive enough.This one's a no-brainer, really. Do not to waste your money on this movie."
Nikhil Arora, Desi Martini (2.5/5) writes
"The plot of Gori Tere Pyaar Mein is ridiculous even for a romantic comedy. The first half of the film is fun and entertaining. There are many moments, which don't make sense, and the script seems to have been given no attention but there is something likable about it. It is goofy and the actors have good chemistry. Imran and Kareena look great together (again).
"This film is a case of a directing miscalculation. The screenplay takes a nose dive after a point. The music of the film is enjoyable."
Saurabh Diwedi, India Today (1.5/ 5) writes
"The story unravels in a constricted space. Not only did Kareena stick to a mere six costumes thoughout the film, the film's set too seemed small.
"Imran Khan's acting in the movie is enough to put an entire audience to sleep. Kareena did okay comparatively. But there's no one else really in a big role, to pit her acting skills against.
"All in all, the story is weak. Direction is poor too. Vishal-Shekhar have composed the music in the film, and when heard otherwise, the songs seem nice.
"Watch the movie if you have to, if you like to watch big stars on the big screen. For the rest, skipping this movie would be a wise decision."
However, leading film critic Taran Adarsh of Bollywood Hungama begs to differ with as he gave (3.5/5) and wrote,
"The first hour of "Gori Tere Pyaar Mein" may give an impression that Punit Malhotra is back on familiar grounds urban setting, wittiness and styling. But the movie wins you over as Imran starts narrating episodes involving Kareena and him.
"Punit does an about-turn in the second half. The writing has its highs and lows in this hour; it's absorbing at times, but not making much of an impact intermittently. However, there's no denying that the noteworthy moments outweigh the blemishes.
"You exit the auditorium with a feel-good sentiment and a smile on your face. On the whole, "Gori Tere Pyaar Mein" is a charming and refreshing coming of age film plus rom-com rolled into those 2.25 hours. The film maintains the right balance between amusement, hilarity and engaging moments. Recommended!"