After a trial run last month, search engine giant Google is now officially rolling out the full-fledged multi-media content service in the form of YouTube Music and YouTube Premium in select countries.
First up, the new YouTube Music will replace the Google Play Music and offer both videos and audio including official artist's songs, remixes, live concerts and more. Subscribers are entitled to get access to unlimited content with background listening feature, downloads and without any irritating ads.


Google has assured users that the existing Google Play Music subscribers are entitled to get direct access to YouTube Music Premium with $9.99 monthly plan going forward. There is also a free YouTube Music subscription plan, but it will show advertisements.
Key aspects of YouTube Music:
Latest songs: YouTube Music offers remixes, cover albums, singles, live versions from the biggest international artists to freshest voices breaking through.
Smart search: YouTube Music search is intelligent enough to come up with correct songs, even if users don't know exactly what they're looking for. They can just describe the song. For instance, users can try typing that hipster song with the whistling or type a part of the lyrics, it will come up with near accurate results, Google claims
Fully personalised recommendations: It also offers customised home screen, which dynamically adapts to provide recommendations based on people's listening history, where they are and what they're doing. If the subscriber is at the airport, it'll recommend something relaxing before the flight. Or if it gets to know the user is entering the gym, YouTube Music will churn out some beats to get the fitness mood going.
Popular videos: YouTube Music offers its own dedicated Hotlist screen, which lists all the region-specific popular songs. Today in the U.S., it features "Nervous" by Shawn Mendes, in the U.K, it's "Drippy" by IAMDDB, and in France, it's "Fais moi la passe" by JUL, the company said.
Google also launched YouTube Premium, a rebranded version of the YouTube Red with better benefits. Subscribers get access to Music Premium, plus ad-free, background, and downloads across all of YouTube.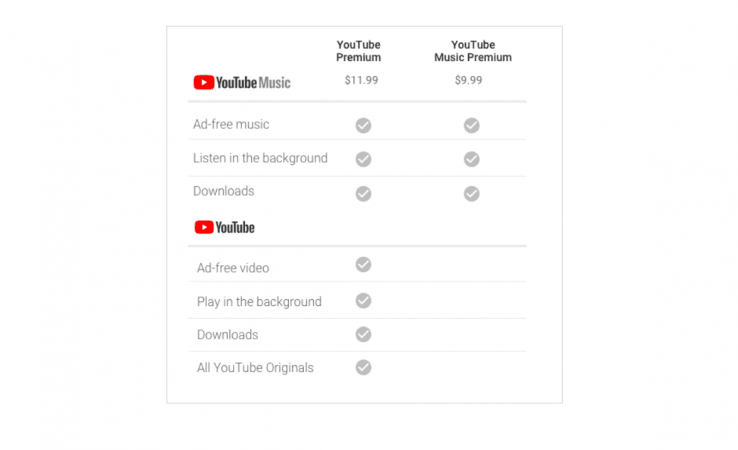 And, YouTube Premium members also get access to the full slate of YouTube Originals shows and movies including the hit series Cobra Kai, Impulse, F2 Finding Football and The Sidemen Show.
Users can subscribe the YouTube Premium for free up to three month trial period, beyond which, they have to pay $11.99 per month for a single account or $17.99 per month for a Family Plan.
Both services are currently live in the US, Australia, New Zealand, Mexico and South Korea in addition to 12 new countries including Austria, Canada, Finland, France, Germany, Ireland, Italy, Norway, Russia, Spain, Sweden, and the United Kingdom
The company is expected to expand the premium YouTube services to more international markets in coming weeks.
With the launch of YouTube Music and YouTube Premium, Google has good chance to give stiff challenge to established players like Spotify, Apple Music, Netflix and Amazon Prime Video.
Stay tuned. Follow us @IBTimesIN_Tech on Twitter and on Google News for latest updates on Google YouTube.