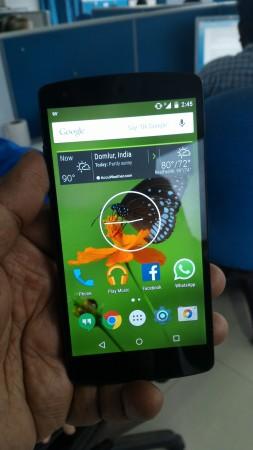 Google's upcoming smartphone dubbed as Nexus 5 (2015) is in the limelight again with its release date getting closer. Now, reports are doing the rounds that it could come with a price tag under $500 and cheaper than the current flagship device, Nexus 6.
The search-engine giant is expected to release its upcoming smartphone, Google Nexus 5 (2015) aka Nexus 5 2nd Generation, in October or November this year, as Nexus 6 will complete one-year-cycle in the market by this time.
One thing that will linger in the minds of Google Nexus fans is the price the upcoming smartphone, especially after Nexus 6 came with a huge price hike over its predecessor, LG Nexus 5.
Interestingly, GeekSnack has reported citing a source close to the matter that Google Nexus 5 (2015) will come with a price tag lesser than $500 (approximately ₹32,000), claiming that Google is working on keeping the handset affordable by not adding too many new features and design.
It may be mentioned that Nexus 6 received poor response from gadget lovers for its 6-inch display and steep price rise. Nexus 5 was launched at $350 (₹28,999) for the 16GB variant and $400 (₹32,999) for the 32GB model. But its successor Nexus 6 hit the stores with a price tag of $649 for the 32GB variant and $699 for the 64GB version.
It wouldn't come as a surprise if Google makes its upcoming Nexus 5 2nd generation an affordable handset following the kind of response Nexus 6 received, but all reports about the pricing of the upcoming smartphone should be treated as speculations until Google officially reveals it.
According to reports, Google is expected to launch two variants of Nexus device – a successor of LG Nexus 5 and the other a successor of the current flagship device, Nexus 6. The tech giant is collaborating with LG again for the Nexus 5 (2015) codenamed "LG Bullhead" and Huawei is working on another device codenamed "Huawei Angler" that is believed to be the Nexus 6 successor, reported Android Police.
Google Nexus 5 (2015) is expected to sport a 5.2-inch display (0.2-inch longer than its predecessor), powered by a Qualcomm Snapdragon 808 processor and a 2,700mAh battery, according to reports.