Google has become a familiar name in the smart speaker space - an area otherwise dominated largely by Amazon and their product, Echo speakers. In a short period of time, Google Home has managed to make a dent in the sales of Echo, with Canalys reporting that Google Home shipments surpassed those of Amazon Echo in the first quarter of 2018.
When Google decided to bring Home and Home Mini speakers to India in April, Amazon had already found a home in the country. Though it wasn't going to shackle Google's ambitions.
While it remains to be seen how popular Google's smart speakers are going to be in India, International Business Times India had the opportunity to test Google Home and assess its worthiness in a niche market such as India.
Before we get to the review, let us get the essentials (features, price & availability) out of the way.
Google launched the Home speaker in India for Rs 9,999, but it can be bought for as low as Rs 8,999 on Flipkart. If that seems pricey, Google has a smaller smart speaker called Home Mini for Rs 4,099. The speakers can also be picked up from Croma and Reliance Digital stores across the country.
As for the features, Google Home falls into the same category as Amazon Echo but has its own Google Assistant. Google Home is practically your personal assistant to carry out some tasks without stretching your legs or even arms. Let the power of your voice prevail!
Is Google Home made for India?
So we had the chance to use Google Home in a not-so-tech-savvy environment (or should we say a typical Indian household) and here's what we think of it.
We already covered the design aspect of the speaker in our previous review, so let's move right onto the part where we assess its usefulness and practicality or just be a geeky gadget you'll get bored of soon.
To begin with, when Google Home was set up, there were all sorts of questions like "what's the point of this" and "it's just going to make you lazier." But the point wasn't to prove anyone wrong or right, it was to test one of the best smart speakers in the world and its capabilities.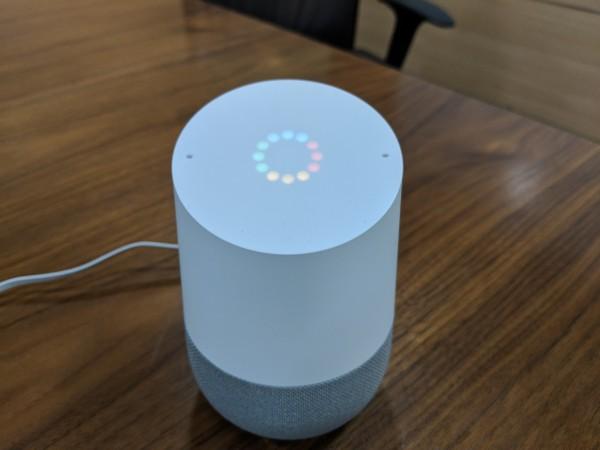 We started using Google Home for basic things like asking general questions (include what is Pi, will you marry me, and more) and doubts, trivia games, quizzes and get food recipes. We must say, Google Assistant was a good (and a patient) host throughout, even though we didn't think any less of Google's knowledge graph (and the fact that it's a trained technology).
How good of an entertainment unit is it?
But the initial excitement around that didn't last long and we weren't testing Home's full potential so we upped our game. Google Home is a smart speaker so we had to utilise the speaker aspect. It came in quite handy during house gatherings and weekend jams. It really helps if you have Google Play Music subscription, but you can also choose other music providers such as Gaana and Saavn to play your favourite tunes. Overall, Google Home can really add a fun spin to a tepid lifestyle.
Google Home's audio quality and its promptness in looking up for songs (most of the time) is not at all bad.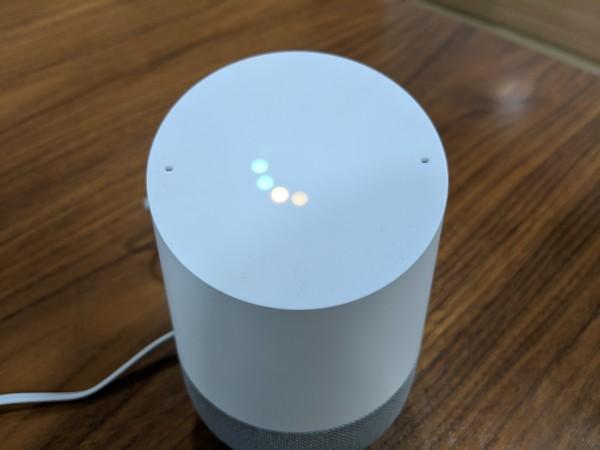 Google Home is not just limited to playing your favourite music tracks. The smart speaker works seamlessly with Chromecast, which means you can stream movies, see photos, watch your favourite Netflix show and simply relax.
The true 'smart' factor in Google Home
Google Home goes so much beyond music and requesting the recipe for chicken lasagne or Hyderabadi dum biryani. With the Home speaker, we also received Philips Hue and a smart bulb, which was set up in the bedroom. We didn't have a wide array of smart home appliances to test with Google Home, but if they can work as well as Philips bulbs, you'll be inspired to transform your home into a smart home.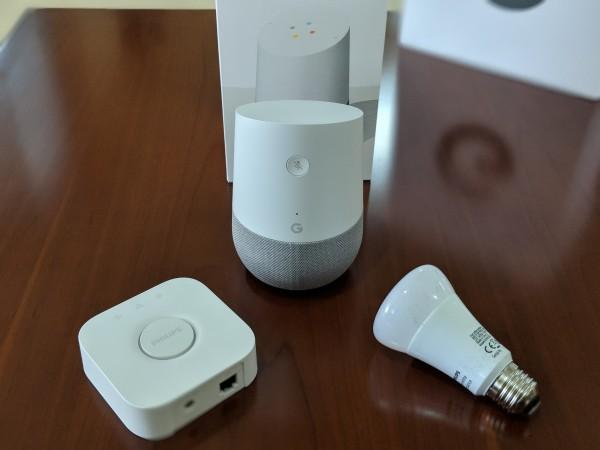 Even if you don't want to set up a smart home now (which is not a budget-friendly choice), Google Home can be quite handy.
We started off with some typical entertaining questions anyone would ask a digital voice assistant for the fun of it. The way in which Google Home uses its extensive presence across all services to streamline your entire day and give timely reminders, it is quite impressive.
Still improving...
But it's worth noting that Google Home's Assistant is still learning many things. Some queries would trigger a disappointing "sorry I don't know how to help with that" response. It's embarrassing at times, especially when you boast of having a smart speaker that can do practically everything and watch it fail at silly things.
But you must know, Google Home is not your Android smartphone's Assistant and we found out that they operate differently at times. It's a good thing Google Home is constantly learning and your experience with the speaker is only going to get better, which was the case with us.
You will absolutely love the broadcast feature, which lets you command the speaker to call the kids for dinner without even having to leave your recliner.
The journey of Google Home started off with some random Q&A's, but the speaker grows on you with its smartness and occasional sassiness.
If the future is AI, then Google Home is right where it needs to be.
Should you go for it?
So the question you would be asking right now is, is it worth buying if you're living in India? In our view, you should specifically order one as the usability of a smart speaker is quite vast and your daily interactions with AI will only improve its efficiency, which can benefit you in the long term.
But there's the challenge of vernacular language support, which we feel Amazon Echo has an edge over. It's a close call depending on your personal preference.
Google has priced its smart speaker smartly, but if you are skeptic about using Home for long, you can start off with Home Mini, which offers a similar experience at half the price.