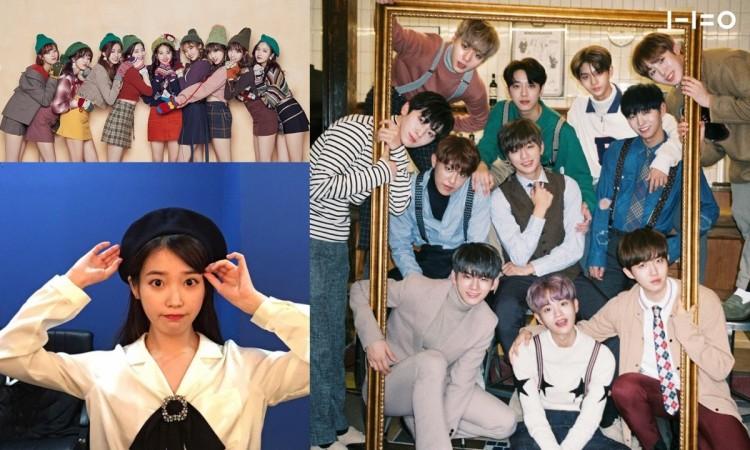 The first lineup of celebrities for Golden Disc Awards 2018 has been revealed. The list includes popular K-Pop boy band Wanna One and girl group TWICE.
The Vertical singer Yoon Jong Shin and Palette hitmaker IU, whose real name is Lee Ji Eun, have also confirmed to attend the annual award ceremony that will be held on January 10, 2018.
The star-studded night will be hosted by Weightlifting Fairy Kim Bok Joo star Lee Sung Kyung in association with You're All Surrounded actor Lee Seung Gi.
Also read SBS Gayo Daejun 2017 highlights: EXO, BTS, Wanna One and others set the stage on fire
Check out the nomination list for Golden Disc Awards 2018 below:
Disc Daesang: Apink for Pink UP, ASTRO for Dream Part. 01, B1A4 for Rollin', BTOB for Brother Act, BTS for Love Yourself: Her, CNBLUE for 7°CN, EXO for The War, GFRIEND for The Awakening, Girls' Generation for Holiday Night, GOT7 for Flight Log: Arrival, Hwang Chi Yeol for Be Ordinary, IU for Palette, JJ Project for Verse 2, Jung Yong Hwa for Do Disturb, Lovelyz for R U Ready?, MONSTA X for The Code, NCT 127 for Cherry Bomb, NU'EST W for W, Here, Red Velvet for Perfect Velvet, SECHSKIES for Another Light, SEVENTEEN for TEEN, AGE, Shinhwa for 13th Unchanging, Super Junior for PLAY, Taemin for Move, Taeyang for White Night, Taeyeon for My Voice, Teen Top for High Five, TWICE for twicetagram, UP10TION for STAR;DOM and Weki Meki for WEME.
Digital Daesang: Akdong Musician for Last Goodbye, BIGBANG for FXXK IT, BLACKPINK for As If It's Your Last, Block B for Yesterday, Bolbbalgan4 for Tell Me You Love Me, BTS for Spring Day, G-Dragon for Untitled, 2014, Han Dong Geun for Crazy, Heize for You, Clouds, Rain, Highlight for Plz Don't Be Sad, Hwang Chi Yeol for A Daily Song, Hyorin, Changmo for Blue Moon, hyukoh for Tomboy, IU for Through the Night, Jung Key for Anymore, Mad Clown for Lost Without You, MAMAMOO for Yes I Am, Melomance for Gift, PSY for New Face, Red Velvet for Red Flavor, Sunmi for Gashina, Suran for Wine, Taeyeon for Fine, TWICE for Knock Knock, Wanna One for Energetic, WINNER for Really Really, Woo Won Jae for We Are, Yoon Jong Shin for Like It, Zico for Artist and Zion. T for The Song.
Best New Artist: Chungha, JBJ, Jeong Sewoon, Longguo & Shihyun, MXM, PRISTIN, Samuel, Wanna One, Weki Meki andWoo Won Jae.
Popularity Award: Akdong Musician, Apink, ASTRO, B1A4, BIGBANG, BLACKPINK, Block B, Bolbbalgan4, BTOB, BTS, Chungha, CNBLUE, EXO, G-Dragon, GFRIEND, Girls' Generation, GOT7, Han Dong Geun, Heize, Highlight, Hwang Chi Yeol, Hyorin and Changmo, Hyukoh, IU, JBJ, Jeong Sewoon, JJ Project, Jung Key, Jung Yong Hwa, Longguo & Shihyun, Lovelyz, Mad Clown, MAMAMOO, MeloMance, MONSTA X, MXM, NCT 127, NU'EST W, PRISTIN, PSY, Red Velvet, Samuel, SECHSKIES, SEVENTEEN, Shinhwa, Sunmi, Super Junior, Suran, Taemin, Taeyang, Taeyeon, Teen Top, TWICE, UP10TION, Wanna One, Weki Meki, WINNER, Woo Won Jae, Yoon Jong Shin, Zico, Zion