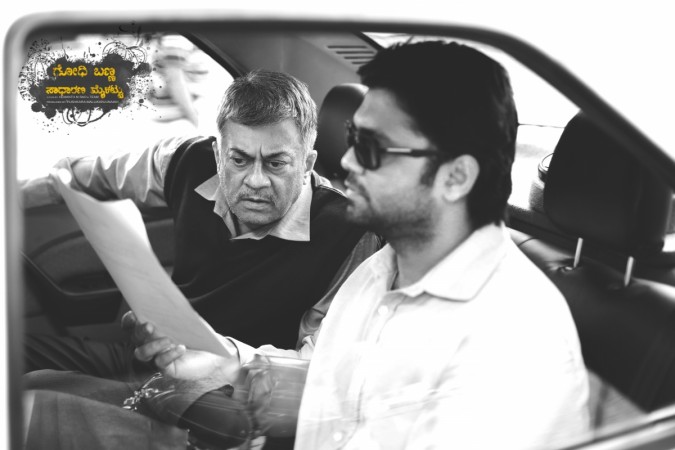 Rakshit Shetty and Ananth Nag-starrer "Godhi Banna Sadharana Mykattu" has been released on Friday, June 3. The film, which has been written and directed by Hemanth Rao, stars Sruthi Hariharan of "Lucia" fame in the female lead role.
"Godhi Banna Sadharana Mykattu" also features Achyuth Kumar, Vasishta N Simha, Ravikiran Rajendran and others in the cast. Charan Raj has scored the music for the film, while Nanda Kishore has handled cinematography and Srikanth Shroff has edited the movie.
The movie had already impressed viewers with its unique promotional campaigns. The makers ran 'missing' ad promos in several newspapers a few of months ago, which garnered good publicity towards the film.
The trailer of "Godhi Banna Sadharana Mykattu" has got positive response from viewers and some of the audio songs have also won hearts. This success helped create positive vibes around the film.
"Godhi Banna Sadharana Mykattu" tells the story of Shiva V Rao, who is in search of his missing father (Venkob Rao), played by Ananth Nag. He learns life lessons in the process of discovering his father and this is the crux of the story.
Review:
Find out what the audience is saying about the Kannada film:
Jaamoonuu: BGM, Camera work, Lyrics are the highlights. Simple story, well presented. #GBSM.
I consider myself rich when I go to popcorn shop instead of restroom during interval. #GBSM
I meant: 2hr 23min straight aagi nOdudhre innu sakath experience. 10min break kottu swalpa aa kade e kade aaythu. That BGM! Just Wow!
COMPLETE FAMILY PACKAGE MOVIE. #GBSM
Cineloka: #GBSM #Dravid 'll play well at Any Position. He doesn't need a Fixed Batting Position. Truth Known for 2 Decades
#GBSM - Interval. Slow but Steady. Serious Subject.
#GBSM - Movie very Close to Heart. Carries a Good Message for those Children who stay away from their Parents during their old-Age
#GBSM : Emotional Drama. Worth watching. Gud debut by Hemanth Rao. Watch it with your father. Don't go with high expectations. Rating 3.5/5
Abhishek S N: Congrats @hemanthrao11, @rakshitshetty , @sruthihariharan and team #GBSM for making a film that emotionally touched us.#AnanthNag Rocks!
#GBSM very good film ! Kudos the director. Ananth Nag does the magic again! He is fantastic. Emotionally connects with us at places. (1/1)
Shashiprasad SM: #GBSM Somebody please increase the brightness n adjust d sound volume. #GodhiBannaSadharanaMykattu #Kapali #matinee show.
#GodhiBannaSadharanaMykattu #GBSM #truly #brilliance emotionally charged experience. Wish my dad was 'just' missing n not gne forever. MissU
#GodhiBannaSadharanaMykattu #GBSM Don't Miss this amazing saga 'around' d missing man. Expecting no less than a national award for #Anantnag
Felt like #ShankarNag d great exclusively directed #GodhiBannaSadharanaMykattu #GBSM for his elder brother #Anantnag
Thejas Ravindranath: Godhi Banna was disappointing. :( #GBSM #Kannada
But Anant Nag's genius is something else. Unbelievably good acting in #GBSM. Really deserves better movies.
Too many unnecessary elements in the story. Film moves very slowly. Nice story, but could have been better made.
And some people left in the middle of the second half. :) Haven't seen that happening since Ra-One.
RJ Raajas: National award winning performance by ‪#‎AnanthNag‬ sir ‪#‎GBSm‬ must watch movie Rakshit Shetty Shruthi Hariharan @hemanthrao11
A Sharadhaa: #GBSM Anant Sir.. you made me cry laugh and made me say to the world about my father 'I love you anna'. Thank you.
S Shyam Prasad: Interval. Turning out to be an amazing film. The drinking scene was the only two dull minutes. Voice is dull. Audience shouting for more sound.
#GBSM wow! What a film. Brilliant
Sunayana Suresh: Take a bow @hemanthrao11 ... what a debut film. #GBSM #Godhibannasadharanamykattu
MADHU DAITHOTA: Welcome to Sandalwood @hemanthrao11. And thanks to you, I step into the weekend misty eyed. Congratulations on a memorable debut.
#GBSM
Mohan K N: @hemanthrao11 Thank u for this kinda movie.. Sensible, rational, and valuable movie #GBSM Another directorial hope for KFI...
Ikyatha: Just watched Godhi Banna Sadharana Mykattu. Movie is a bit slow,but must appreciate the effort taken to make an offbeat #Kannada film #GBSM
Anant Nag is phenomenal in #GodhiBanna. What a fine actor! #GBSM
Felt so good when I saw you on the big screen. Can't believe it's the same rowdy junior that I knew. Great going, @sruthihariharan! #GBSM