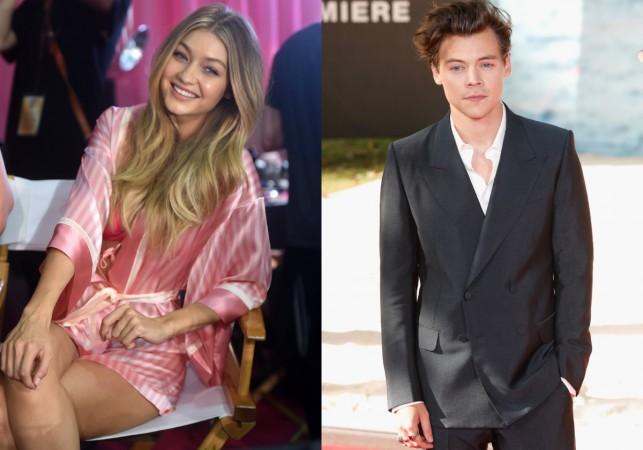 It hasn't even been two months since her break up with former One Direction singer Zayn Malik, and supermodel Gigi Hadid is already being linked with a new name from the industry. Rumor mills are busy claiming that the 23-year-old has her heart set on yet another One Direction singer, Harry Styles.
According to NW, the Victoria's Secret model is interested in dating Zayn Malik's former band member. "At the top of Gigi's man wish list is none other than Zayn's former band mate," the tabloid claims.
"She's always had a crush on him," a dubious insider claimed, adding that a Hadid-Styles hookup would be a "bit against girl code," Kendall Jenner previously dated him. However, "she reckons Kenny will give her her blessing," the source added. "But it's going to be a serious slap in the face for Zayn when he finds out!"
As shocking as these claims sound, Gossip Cop clears the air that these are merely rumors and nothing holds true. Furthermore, several tabloids have been reporting that Gigi and Zayn are getting back together. The (former) lovebirds were spotted kissing on the streets of New York a while ago. The Pillow Talk hitmaker was also caught spending the night in Hadid's house in Manhattan.
Recently, a source close to the couple told E! News that Zayn wants to fix things with Gigi. "Zayn really wants to be with [Gigi] and has made it clear. He misses her and can't stand being apart," an insider shared. But, "Gigi's a little bit more hesitant," the tipster shared. "They aren't officially back together but they are talking and hanging out."
The reason the couple parted ways as per the source is "it wasn't working and nothing has really changed." It is said that Gigi "does love him, but she isn't completely sure this is where she wants to be right now."
"They are both so busy with their careers and traveling the world. It makes it very difficult to be in a relationship," the source added. "They both needed the space to clear their heads. Zayn reached out to Gigi after a week and they decided to see each other and see how things go. No love was ever lost between them."
Let's hope they reunite soon!