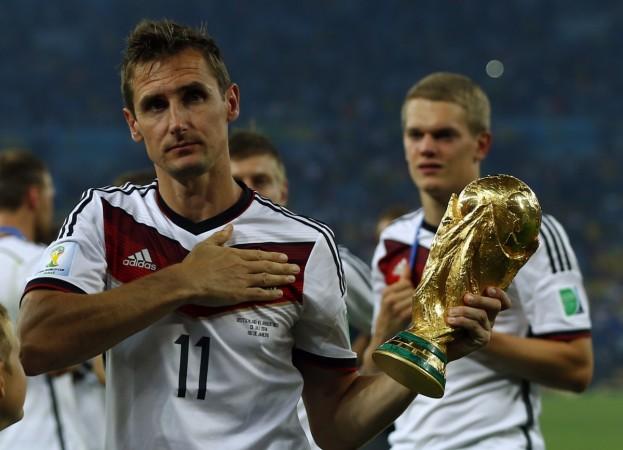 Germany striker Miroslav Klose has officially announced his retirement from international football following his side's triumph in the 2014 World Cup.
The 36-year-old striker, who became the leading goalscorer in World Cups with 16 goals, after breaking Brazil striker Ronaldo's record last month, feels that it the right time to hang up his international boots after Germany's success in Brazil.
"With the title in Brazil, a childhood dream came true," Klose told the German football association's official website. "I am proud and happy that I was able to help shape this great success for German football."
The Lazio striker, who has scored 71 goals in 137 appearances for Germany in a career spanning over a decade, says that he will always cherish "many unforgettable moments" and the "unique and wonderful" times he spent with the Die Nationalmannschaft.
The former Bayern Munich striker is also Germany's highest goal scorer, surpassing Gerd Muller's record during a pre-World cup friendly game against Armenia.
However, the striker stressed that the success of the team always comes before his personal achievements.
"Team success stood, and stands, above everything for me," Klose said. "I have reached a huge goal [the World Cup] - a goal that we shared as a team.
"But I have also reached goals I set myself personally. Whoever knows me knows that I am very ambitious. I am an attacker, and an attacker's job is to score goals."
Klose gave special thanks to Germany head coach Joachim Low, saying he always received "complete confidence" from the 54-year-old boss.
"This mutual highest respect and appreciation I have felt in our discussions in the last few days. That our cooperation will now end with winning the title is great," added Klose.
Low also paid tribute to the striker, saying that he was very proud to have worked with the former Werder Bremen striker.
"When I met up with Miro last week he told he me he had thought long about it and talked to his family," said Low. "I immediately sensed that his decision was irreversible and that I cannot convince him otherwise.
"You can always count on Miro to keep his word and that was the case in Brazil as well. I have a lot of respect for Miro's decision as well as for his unbelievable national team career that is all but impossible to trump."
Klose has become the second player to retire from the Germany national team after skipper Philipp Lahm also called it quits last month.