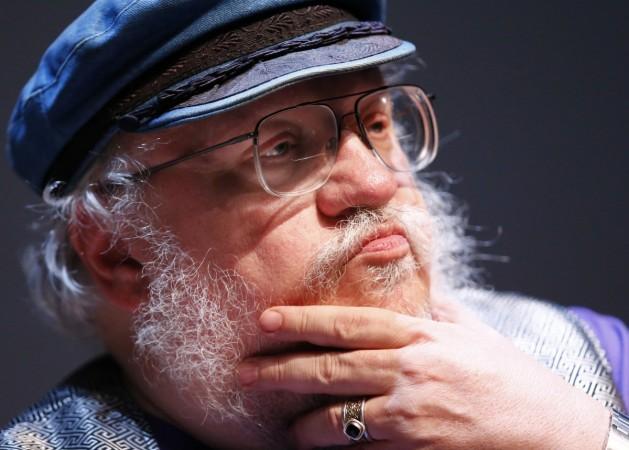 "Game of Thrones" returns for a fifth season on 12 April, and author George RR Martin has given fans a glimpse of what future has in store for a major character by releasing a chapter from his upcoming book, "Winds of Winter".
The chapter, which focuses on Sansa Stark who is still going by the name Alayne Stone, starts with Alayne reading a story to Robert Arryn.
The excerpt can be read on Martin's site, and here are three things that we've learned from the excerpt:
Sansa is still going by the name Alayne
In the television series, Sansa reveals her true identity to the tribunal investigating the death of Lady Lysa. But in the book, she is still known as Alayne, and her primary duty appears to be young Robert Arryn, while rejecting his advances to marry her.
Preparations are underway for a tournament
The chapter talks about how Littlefinger has put in place a competition pitting young fighters against each other so as to recruit them to "Brotherhood of Winged Knights" - a squad responsible for protecting young Robert.
Apparently, Alayne is the brains behind the event.
The passage reads: "The tourney, the prizes, the winged knights, it had all been her own notion. Lord Robert's mother had filled him full of fears, but he always took courage from the tales she read him of Ser Artys Arryn, the Winged Knight of legend, founder of his line. Why not surround him with Winged Knights? She had thought one night, after Sweetrobin had finally drifted off to sleep. His own Kingsguard, to keep him safe and make him brave. And no sooner did she tell Petyr her idea than he went out and made it happen."
Alayne is in team Baelish
Alayne, who in the book has taken the role of Lord Baelish's bastard, has apparently started seeing him as her father, and not just a protector or captor. She has willingly become a pawn in his game to reclaim Winterfell. However, the television series might differ because Sansa has more power over Baelish as she is now the only one who knows the truth about Lysa's death.
"Game of Thrones" premieres 12 April at 9 pm on HBO.