Veteran actress Geeta Kapoor was waiting for her son to come back and take care of her, but unfortunately, she was alone when she died at an old age home in Mumbai. The actress, who was abandoned by her son Raja, passed away at SRV Hospital in Goregaon on Saturday morning.
Geeta, who acted in films like Pakeezah and Razia Sultan, was abandoned by her son in a Mumbai hospital last year and since then filmmaker Ashoke Pandit and Ramesh Taurani were taking care of her.
According to Mumbai Mirror, Geeta's daughter Aradhya Kapoor arrived in Mumbai on Sunday afternoon to claim the body. But Pandit said that Raja did not see the body of his mother.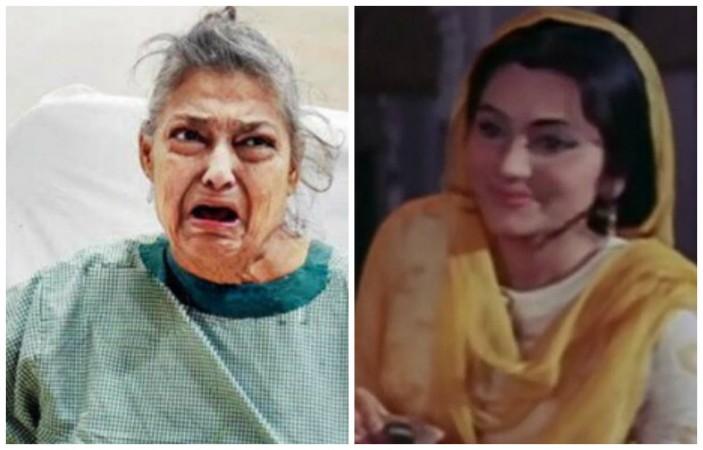 Sadly, Geeta's last words were for her son and she was hoping that Raja will come for her. "My anger is increasing by the minute. Raja hasn't arrived for the last rites. Yes, as I said earlier, we will wait for 2 days as that's the law if no family member has come forward. It is a shame that he hasn't turned up yet," Pandit had told Spotboye.com.
"She was barely on some liquid diet. She had gone blank, and all that I heard from her even two days before her death when I met her was 'Mera Raja Aayega'," he said, adding: "If you ask me, Geetaji had a very, very sad death. She died in hope, err, despair. Life is a full circle. Geetaji's grandson might behave similarly with their parents."
The Pakeezah actress had worked in more than 100 films. Last year, she had revealed that her son used to beat her and not give her food. He even left her at a Mumbai hospital.
Geeta's last rites were performed late on Sunday evening. According to Pandit, her daughter and sisters cremated her without informing them.
"We requested her to inform us, people from the film industry, doctors & the sisters of the old age home - the time of cremation as we want to be a part of her final journey. But she refused. Sad!" he tweeted late on Sunday.
The daughter & sisters of late actress #GeetaKapoor Ji performed her last rites, late last night. Even though Dr. Tripathi, Old Age Home sisters, #ArchanaShourie & I requested them to inform us so that we, who stood by her pain, are part of her last journey. But they didn't. Sad!

— Ashoke Pandit (@ashokepandit) May 28, 2018