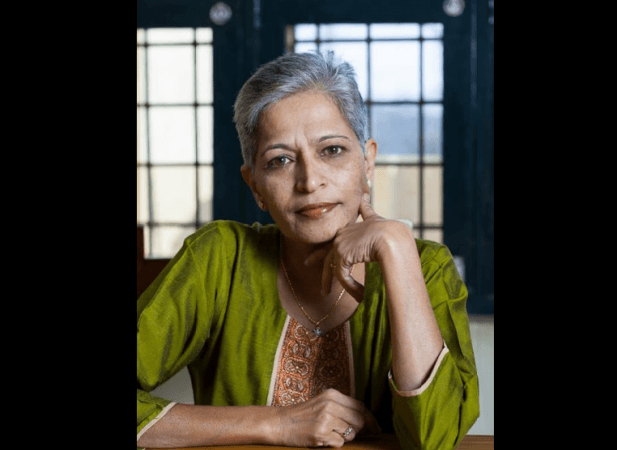 Twitter is polarised after the murder of Kannada journalist Gauri Lankesh, with the supporters from the two ends of the political spectrum erupting into a war of words. Despite widespread condemnation from organisations and people from across the country, some sections of the twitterati chose to vent their ire on Lankesh, who was a thorn on the side of the right-wing politics in the country.
Journalist Gauri Lankesh shot dead in Bengaluru; body taken for post-mortem
The 55-year-old journalist was well known for her outspoken criticism of the right-wing Hindu nationalist politics and her brutal killing has now sparked a debate between the right wing and left wing supporters.
While journalists and other association like the Press Club of India (PCI), the Press Association and Indian Women Press Corps have called for protests, a section of the Twitterati has presented their polarising views.
Most of them, who seem to be left wing supporters, have condemned her death and called for action. "My friend Gauri Lankesh who recently published the kannada edition of Gujarat Files shot dead. Cowards, bigots. You disgusting people," said tweeted out journalist Rana Ayyub.
Chief Minister of West Bengal Mamata Banerjee and TMC leaders have condemned Lankesh's death.
Saddened at the killing of journalist Gauri Lankesh in Bengaluru. Most unfortunate. Very alarming. We want justice

— Mamata Banerjee (@MamataOfficial) September 5, 2017
A few have openly accused the right wing of carrying out the murder.
She was against Hindutva politics then she must be killed by Right- wings Logic by Pagalika Ghosh(Sagarikga) Communists #GauriLankeshMurder

— Abhinash Raj (@AbhinashRAJ15) September 6, 2017
Meanwhile, right wing supporters have not taken the accusations lying down. While a few Twitter users defended the right wingers in an outright manner, a few had a sarcastic approach to the allegations made against them.
The sarcastic supporters
Presstitutes logic...smthng hpnd in BJP ruling state, BJP is respnsbl, same hpnd in INC ruling state Modi is rspnsbl.#GauriLankeshMurder

— Vicky Sharma (@crazyguy713) September 5, 2017
However, a Facebook user by the name VikramAditya Rana breached the lines and sparked a huge controversy on the social media.
Here's what Rana has said.
"Comrade she was then.I assume she & her kind never showed her brave journalism when all those Hindus in Bengal & RSS were being butchered in Kerela ??
Not an iota of sympathy for d b***h . They should have shredded her body with bullets & even blasted apart her apartment (sic)," said Rana in a Facebook post that is going viral.
He even took to naming a few other journalists and authors who Rana feels deserve death as well.
"Serves her & her kind right for d damages these so called journos have caused our nation.
Sagarkia Ghose & Arundhati Roy ,Kavitha Krishnan ,Shiela Rashid ,Umar Khalid ,Kanhaiyya should be at d top of d list now (sic)," said Rana.
His posts have taken the media by a storm, prompting many people to call for his arrest.