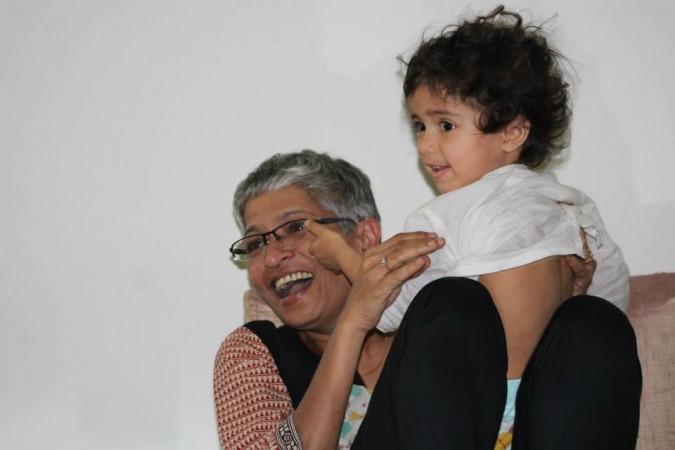 Karnataka journalist Gauri Lankesh's social media posts and activities mocking the BJP-led government at the Centre are in focus after her gruesome killing in Bengaluru on Tuesday. Posts and tweets slamming the government and its right-wing ideology were galore in the last six days. They subjects ranged from Gorakhpur tragedy to demonetisation and Gurmeet Ram Rahim Singh conviction to the cabinet reshuffle.
Lankesh also tweeted voluminously on the Rohingya refugee crisis. Other topics were Hrithik Roshan-Kangana Ranaut controversy and a video explaining "gay rights to Indian parents".
Her last posts on Facebook and Twitter were about the Rohingya refugees. She had shared two links – one spoke about the fake news on Rohingya 'terrorists' killing Hindus and another link about the Supreme Court asking Centre about deporting Rohingya refugees.
" ... why do i feel that some of `us' are fighting between ourselves? we all know our ``biggest enemy''. can we all please concentrate on that?" she tweeted on September 4.
"Ok some of us commit mistakes like sharing fake posts. let us warn each other then. and not try to expose each other. peace... comrades," she tweeted later, making her last post she wrote on Twitter.
On a lighter note, she even shared her sister Kavitha Lankesh's post on Facebook wishing their late father P. Lankesh a Happy Teachers' Day. "An absentee father most times but a wonderful teacher of life - My Appa!! Happy teachers day!" the post read.
She even shared posts on Onam, the Kerala harvest festival. In another post she praised Kangana for talking about nepotism, Karan Johar and Aditya Pancholi and her being called a witch.
On Tuesday, she shared a post on Facebook slamming BJP for maligning Hemant Karkare, who was killed during the 26/11 terror attack in Mumbai.
Since her Twitter and Facebook accounts were linked, the posts she shared on one social media platform appeared on another.
Gauri, a well-known journalist and critic in Karnataka, was shot dead in Bengaluru on Tuesday night. Unidentified people on a motorcycle fired seven shots at her, killing her at her doorstep in Rajarajeshwari Nagar. Three bullets hit her in the head and chest.
Check out some of her Twitter and Facebook posts she shared in the past one week.
why do i feel that some of `us' are fighting between ourselves? we all know our ``biggest enemy''. can we all please concentrate on that?

— Gauri Lankesh (@gaurilankesh) September 4, 2017
Ok some of us commit mistakes like sharing fake posts. let us warn each other then. and not try to expose each other. peace... comrades

— Gauri Lankesh (@gaurilankesh) September 4, 2017
Aakarvani : Dear Muslim, have you learnt to live with insults and prejudice?: https://t.co/RjCUv5lRdX via @TOIOpinion

— Gauri Lankesh (@gaurilankesh) September 4, 2017
Newly sworn Minister Anantkumar Hegde's Twitter account gives a peek into his mindset https://t.co/4365J1WO5l via @altnews

— Gauri Lankesh (@gaurilankesh) September 4, 2017
Dont understand why people are celebrating n sitharaman as def minister. Modi will be in charge of every portfolio #cabinetreshuffle

— Gauri Lankesh (@gaurilankesh) September 3, 2017
Spirituality gone awry in India: What is Dera Sacha Sauda, and who is its jailed leader? https://t.co/GGQmR71zM5

— Gauri Lankesh (@gaurilankesh) September 3, 2017