The Bharatiya Janata Party (BJP) has released a strongly worded statement defending Prime Minister Narendra Modi after the Opposition and activists lashed out at him for following Twitter handles that justified the killing of senior journalist Gauri Lankesh on Tuesday evening.
"The PM following someone is not a character certificate of a person and is not in any way a guarantee of how a person would conduct himself," Amit Malviya, BJP's national head of information and technology, said in a statement describing the controversy as "mischievous and contorted".
The Opposition had strongly objected to PM Modi continuing to follow several handles from his personal account — @narendramodi — despite them abusing and threatening BJP's critics.
Malviya said that Congress vice-president Rahul Gandhi and Aam Aadmi Party (AAP) convenor Arvind Kejriwal were never questioned about abuse and threats by their followers. He added that the debate was "not only farcical and fake, but also an exhibit of selective right to freedom of expression."

Malviya described PM Modi as "the only leader who freely engages with people on social media platforms." He said that the PM "is a rare leader who truly believes in freedom of speech and has never blocked or unfollowed anyone on Twitter", unlike others including the "previous PMO handle".
Malviya's statement also mentioned that PM Modi follows Rahul — "an accused in loot and fraud" — and Kejriwal, who has "abused" Modi on Twitter and "told a woman 'settle kar lo' when she complained of a party member molesting her."
However, Malviya's claim that PM Modi has never unfollowed anyone on Twitter was immediately rubbished on social media with Twitterati pointing out that the PM had unfollowed Dr Jwala Gurunath (@DrJwalaG) after she accused BJP spokesperson Tajinder Bagga of unethical behaviour.
Congress also lashed out at Malviya for defending PM Modi. "Amit Malviya's rabid and sinister response justifying PM Narendra Modi following trolls celebrating the murder of Gauri Lankesh has exposed the fanatical and dangerous agenda of the BJP government and the party," Divya Spandana, former MP and head of Congress's social and digital media, said. "May we remind PM Modi and BJP that it is this very thought that led to
"May we remind PM Modi and BJP that it is this very thought that led to the assassination of Mahatma Gandhi by (Nathuram) Godse with RSS distributing sweets and celebrating the murder of Father of the Nation. And don't forget that it is for this very reason that Sardar Patel, India's Home Minister, banned the RSS," she added.
PM Modi and the BJP were severely criticised by the Opposition, activists and social media users for following handles that propagate abuse, violence, and hatred. The hashtag #BlockNarendraModi was the top trend on Twitter on Thursday.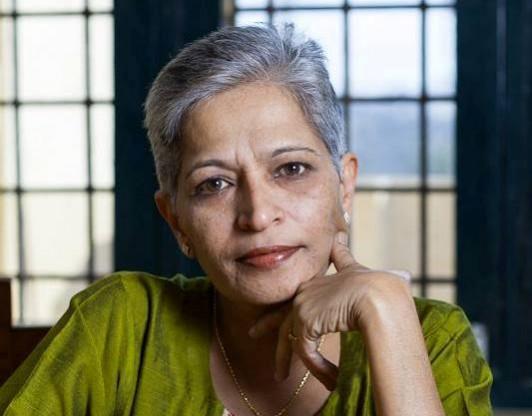 Twitter user Nikhil Dadhich posted a tweet shortly after Lankesh's death saying: "It took a bitch to die a dog's death, for all pups to howl in the same tune." Dadhich's account is followed by several political leaders from the right-wing BJP, including PM Modi, prompting Twitter users to question why the PM was following such people on social media.
Many social media users demanded that PM Modi unfollow such abusive followers. When this did not happen, #BlockNarendraModi began appearing on the microblogging site late on Wednesday, and by Thursday morning, it became the top trend on Twitter.
Union Minister Ravi Shankar Prasad tried to control the damage by tweeting on Wednesday evening, "I strongly condemn & deplore the messages on social media expressing happiness on the dastardly murder of #Gaurilankesh. Expressing happiness on the killing of anyone is shameful, regrettable and totally against Indian traditions. Social media is not for that. I expect that Karnataka police will soon nab the killers of #GauriLakesh at the earliest at taking action against them."