The last six years have been a roller-coaster ride for the Starks. After almost every Stark member brutally killed, betrayed and butchered, now it is time to see whether the remaining Stark sisters (Arya Stark and Sansa Stark) and their only brother alive, Bran Stark, can be reunited in the forthcoming season of Game of Thrones.
Also read: Game of Thrones Season 7 to see power struggle between Jon Snow and Sansa Stark?
In Season 6, Sansa (Sophie Turner) met her resurrected half-brother Jon Snow in Winterfell. And, soon after that Jon Snow (Kit Harrington) was announced as the King in the North. But since then a new problem has been driving Sansa.
As we have seen in the last season, the power hungry Little Finger (Aidan Gillen) aka Lord Petyr Baelish has been trying to influence her to join his forces as to make her the Queen in the North (which Sansa also desires).
"There's always something brewing with Littlefinger," Sophie told in a recent interaction with HBO Brasil. "The dynamics of [their] relationship are definitely played out a lot this year. On the one hand, he's so knowledgeable and he gives her so much advice."
But will it be a wise decision for Sansa Stark if she comes under the influence of Littlefinger? She must remember how he skillfully won her trust and later betrayed her in season 6 while he left her to Ramsay Bolton (Iwan Rheon).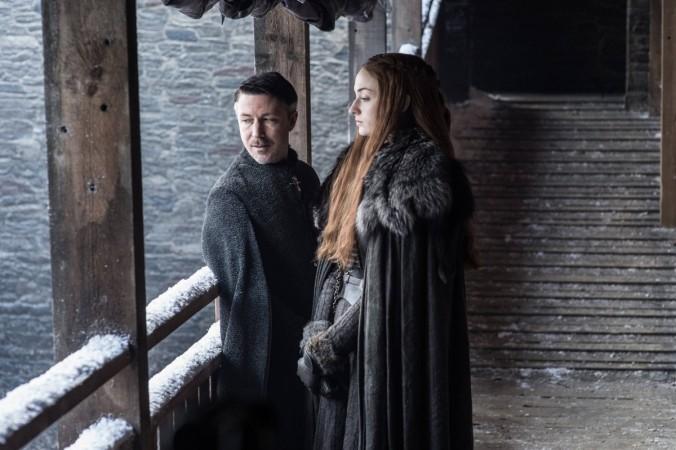 Sophie further added: "There's a lot of her struggling with whether she trusts him or not this year."
In this backdrop, Kit Harrington recently teased in an interview with Entertainment Weekly: "There is definite tension between them [Jon Snow and Sansa Stark] right from the first scene. There are the same problems — she questions his decisions and command; he doesn't listen to her."
The penultimate season of Game of Thrones, which consists of seven episodes, returns to HBO on this Sunday, July 16, at 9 pm ET. In India, it will be aired on Star World on July 18 at 11 pm.
Watch the trailer here.