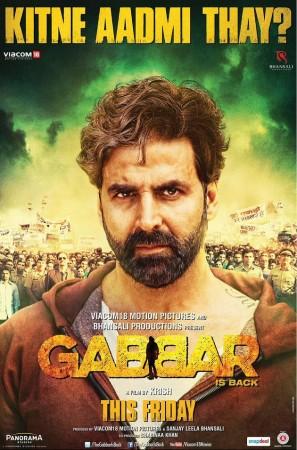 IBTimes India Rating: 2
The only take away from "Gabbar Is Back" is that films on corruption will soon outnumber people with nefarious intentions. They are making too many of them.
A lone crusader (Akshay Kumar), a chirpy love interest (Shruti Haasan), a wifey (Kareena Kapoor Khan), a curious and ambitious constable (Sunil Grover) and a cunning real estate bigwig (Suman Talwar).
This is the moment when the word 'cliche' doesn't sound so clichéd after all.
The characters are loosely written and hang around on the peripherals of the script. It's like they are two parallel lines which never meet.
The Tamil remake allows the 'Khiladi' to do what he does best: throw punches and roundhouse kicks, and mouth supremely dramatic lines. Shruti doesn't add value to the script, but helps with some comic relief. Sunil doesn't really get the deserved screen space, considering Akshay hijacks almost every frame.
Directed by Krish, the action-drama goes overboard with sentiments. That the protagonist sets out to right the wrong all by himself is a crazy idea. Even Batman needs Robin. What's even worse is the narrative's penchant for not seeing any situation through. Laced with rapid shifts, most scenes close with negligible conclusion.
The pitch, at which the dialogues are delivered might prompt you to book an appointment with the city's best otorhinolaryngologist (ENT). It's loud, and in-your-face, a combo anyone would dread.
The music is pleasant, especially, "Teri Meri Kahani" by Arijit Singh and Palak Muchal. "Aao Raja" and "Coffee Peetey Peetey" are worth a mention but it was soul-crushing to see a talented actress like Chitrangada Singh being reduced to an item girl.
In a nutshell, watch only if you are an Akshay Kumar fan.