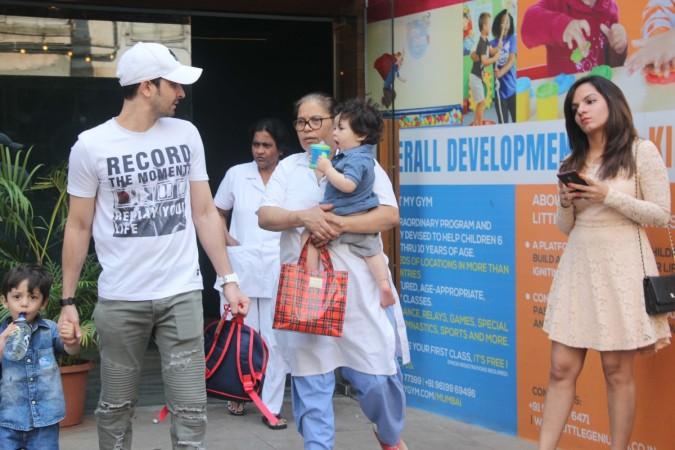 Kareena Kapoor and Saif Ali Khan's baby boy Taimur is always under the radar of people crushing on his cuteness or trolling him for random reasons.
February 1 was one of those days where Taimur was dragged into the Union Budget. Yes, that's true. You must be thinking what is the connection of Taimur Ali Khan and Arun Jaitley's budget 2018? Well, while the middle class was trying to wrap their heads around the budget and how it will affect their lives, Twitter made Taimur the hot topic to have some fun.
We don't know if they are funny or offensive, but here are some tweets. One user said:
"@arunjaitley , wheres the budget for taimur ?", while the other commented: "I will protest against @arunjaitley if govt will not allowed any fund for Taimur pataudi's inner wear under #Budget2018"
One troll said: "Taimur even suggested arun jaitley to add a few things in budget. Mom kareena must be proud of", and the other said: "Oye ! Aaj sab camera wale kahan gaye ? Aur yeh Arun Jaitley kaun hai ab ?" ~ Taimur after waking up."
What do you think? Hilarious or trolling?
Meanwhile, Taimur is India's favourite star kid. Right from his airport pictures, birthday parties, his gym membership to a normal outing in the city – the kid takes away the headlines!
While the country is currently tripping on Rajput Karni Sena's weird antics and protests, a Facebook page that indirectly uses Kareena Kapoor and Saif Ali Khan's son Taimur to draw attention to national issues is going viral. The page is called 'Pictures of Taimur Ali Khan to distract you from real issues'
Satirical in nature, the page tries to expose diversionary tactics by the media. It tries to drive home the message that in the hype over Taimur, grave national issues are getting conveniently neglected or glossed over. The page went live on January 23 and it has already crossed 3,000 followers.
Indian Media is reporting each n every activity of Arun Jaitley on #Budget day.

Arun Jaitley must be feeling what Taimur feels on other days.

— Arnab Goswami (@the_sashiks) February 1, 2018
"Oye ! Aaj sab camera wale kahan gaye ? Aur yeh Arun Jaitley kaun hai ab ?" ~ Taimur after waking up#Budget2018

— Ashutosh kumar (@ashutosharman) February 1, 2018
Share your comments.