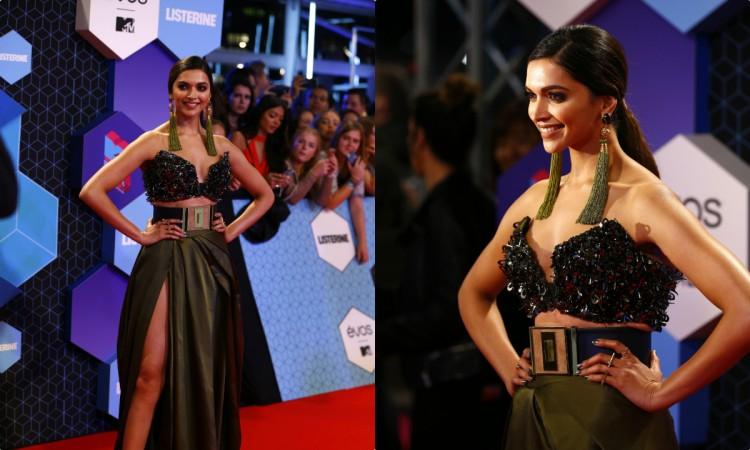 Deepika Padukone walked the red carpet at the MTV Europe Music Awards 2016 on Sunday at Rotterdam, Netherlands. The actress looked bold and beautiful in a swamp green Monisha Jaising ensemble, complete with Valliyan jewellery and a pair of Balmain heels. Even though her look for the evening was good, she has done better.
Meanwhile, a foreign daily captioned Padukone's photos from the event as: "Bollywood blunder: Indian actress Deepika Padukone may be stunning but her swamp green bralet and skirt combo did nothing for her sensational figure."
Padukone's fashion choices have hardly been questioned and she almost always gets it right, thanks to her stylist Shaleena Nathani. But the Jaising number somehow didn't quite stand out in the crowd. However, the fashion policing shouldn't matter to the Padmavati star considering she was there on a purpose — to further her global career.
"This is my first time at such an event so I don't know what to expect. I am going there just to have fun. I understand the platform and what it is all about; it is a music award and I love music. I listen to a lot of music of the people, who are playing there, so right now, everything seems surreal in that sense," she told the media before jetting off to Rotterdam.
In other news, the daily had come under fire for failing to recognise the actress earlier this year. Instead of referring to her as "Bollywood star Deepika Padukone," the article addressed her as the "leggy brunette" and tennis star Novak Djokovic's "female companion." The two were spotted hanging out at a Los Angeles bar. However, the publication later rehashed the piece, adding adequate information about Padukone.