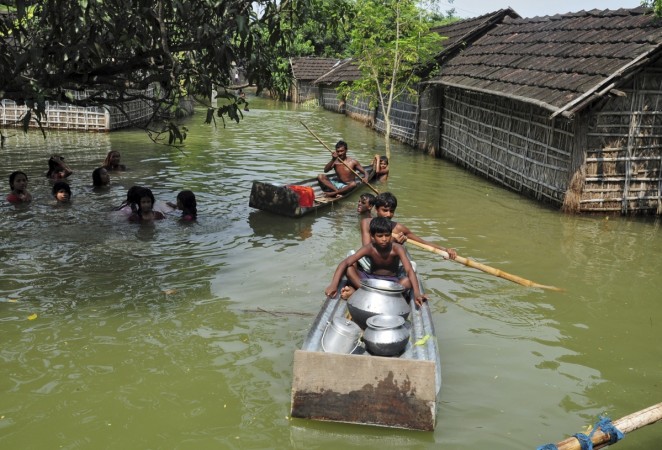 The Water Resource Ministry on Tuesday declared flood alert in Odisha as Baitarani River crossed its danger level. As many as 17, 000 people have been evacuated so far, and 23 people have been killed due to heavy rainfall.
So far, 17,000 people have been evacuated from five districts of Odisha including Jajpur, Cuttack, Sambalpur, Bhadrak and Keonjhar. Forces have been deployed in other areas for the evacuation of the rest under threat of submerging in the flood.
Areas surrounding Baitarani River is facing major threat, as the water level is rising alarmingly. It has crossed the danger level of 38.36 meter and the river is now flowing at a level of 41.04 meters, which is just 0.31 meters below the 2011 High Flood Situation Level.
"While several rivers are in spate, the situation in Jajpur and Bhadrak districts is a matter of concern now as river Baitarani is rising alarmingly flooding many areas," PTI quoted Special Relief Commissioner P K Mohapatra.
Surrounding Baitarani River, over 2,000 people have been evacuated from Akhuapada in Jajpur district, where rising water level of Baitarani has threatened lives of as many as 50, 000 people. Additionally, 40, 000 people have been affected in Bhadrak district as the flood water is sweeping into villages.
Mohapatra had earlier said that Chief Minister Naveen Patnaik had asked to shift people from low-lying areas to safer places with provisions for free cooked food and other relief aids, according to NDTV.
Following instructions, more than 4,000 people were evacuated earlier from low-lying areas in Sambalpur to relief centers with around 22 free kitchens opened for them.
More people are being evacuated from other areas. Five fire service units have been sent out in the affected districts.
Eight teams of National Disaster Response Force have been deployed in Keonjhar, Jajpur, Bhadrak, Balasore, Mayurbhanj, Cuttack, Kendrapara and Puri districts, while 10 teams of Orissa Disaster Rapid Action Force have been positioned at Cuttack, Sambalpur, Bolangir, Mayurbhanj, Keonjhar, Bhadrak and Balasore districts to deal with possible flood in the area.
The state has been witnessing heavy rainfall for the past three days, resulting in steep rise in water level of more than nine rivers.
Additionally, water levels in Mahanadi, Kathjodi, Kusabhadra, Devi, Baitarani, Subarnarekha, Budhabalanga, Vansadhara, Rushikulya and several other small rivers have also been rising continuously.
However, Mahanadi River does not pose major threat, as almost 17 gates have been opened at Hirakud reservoir to allow release of water from the Mahanadi delta, according to news reports.
The torrential rain had earlier killed three people, one reportedly died after a wall collapsed over him, while the other two drowned in two different districts. The toll has reached 23 as the flood water is sweeping several villages.
The rain has also disrupted communication networks in different regions of the state and road transport and train services have been blocked in many areas.